Thanks to the hard work of Crazy Foxie, CalculusWhiz and the rest of the team, the Dark Dragon and Sword of Light manga by Maki Hakoda is now fully readable in English.
This particular manga–as the title suggests–retells the story of the very first Fire Emblem and is a renowned piece of Fire Emblem history.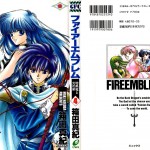 You can download all 12 volumes of the manga directly from our gallery. (Note that most of the "Read Online" links are currently disabled, as I slowly upload the individual pages.)
If you have any comments for the team or desire additional information, be sure to check out the group's Facebook page or translation topic!