Wait, what is this?
You may or may not recall that I previously tried to make a Let's Play of Victoria 2 as France, however this failed as my computer used to overheat and shut off while playing this. As it's better now, I've decided to do a Let's Play of one of two Paradox Interactive Grand Strategy games: Europa Universalis 3 and Victoria 2, both with all expansions and patches, as well as the MiscMods mod for EU3, and the Pop Demand Mod for Victoria 2.
Wait, what are these games?
These games are, as mentioned previously, grand strategy games by Paradox Interactive. As far as historical accuracy and depth go, they're mostly unparalleled in gaming, though they obviously still have a ways to go. They're pausable real time games, meaning they more or less run in real time, but can be paused and adjusted whenever. While both of the games have a decent militart system, they're way more about politics and economy than just military force, especially Victoria 2. As a consequence, most military minutiae are completely out of your control, and while you can control your military organization and whatnot, as well as ordering them from province to province, once they're in battle, you have little control over its course, other than sending in more guys, or similar things. Europa Universalis 3 takes place from 1399 until 1820, and is the more sandboxy and militaristic of the games, with less focus on really really detailed economies and whatnot. It's also generally easier to play, and significantly easier to get really powerful in than Victoria 2. Victoria 2 takes place from 1836-1936, and covers the industrial revolution and the build up to the modern age. It has a really detailed and in depth world economy, and a generally more robust diplomatic and political system. It's worth noting I guess that if I play EU3, I might then convert it to Victoria 2 and finish the game there.
Wait, what are these options in the second poll?
If I end up playing EU3, there are four possible 1399 starting scenarios to choose from, so I figured I'd let you guys decide. The options are as follows:
Historical Grand Campaign:
Our world in 1399. This is the normal one that you get without mods, and is more or less completely historical. The Renaissance is just getting going, Ming dominates the east, the Holy Roman Empire is somewhat fractured, the Moores have been pushed back to just Granada, the 100 years war is sort of raging (ie. England has its continental holdings), Burgundy is going strong, and the Timurids are fucking shit up. The Byzantines are almost dead, and only really have Thrace.
Shattered Europe:
Christianity is feeling pretty bad. The British isles are broken up even further, with the Druidic religion thriving. Scandinavia is filled with Shamanists and Asatru. Lithuania and its ilk are still running with Animism, and Islam is going strong. Iberia is almost totally dominated by the Moores, as well as parts of Italy, and most of the Balkans and Eastern Europe, and the King of France only has direct control over Ile-de-France.
Peace of God: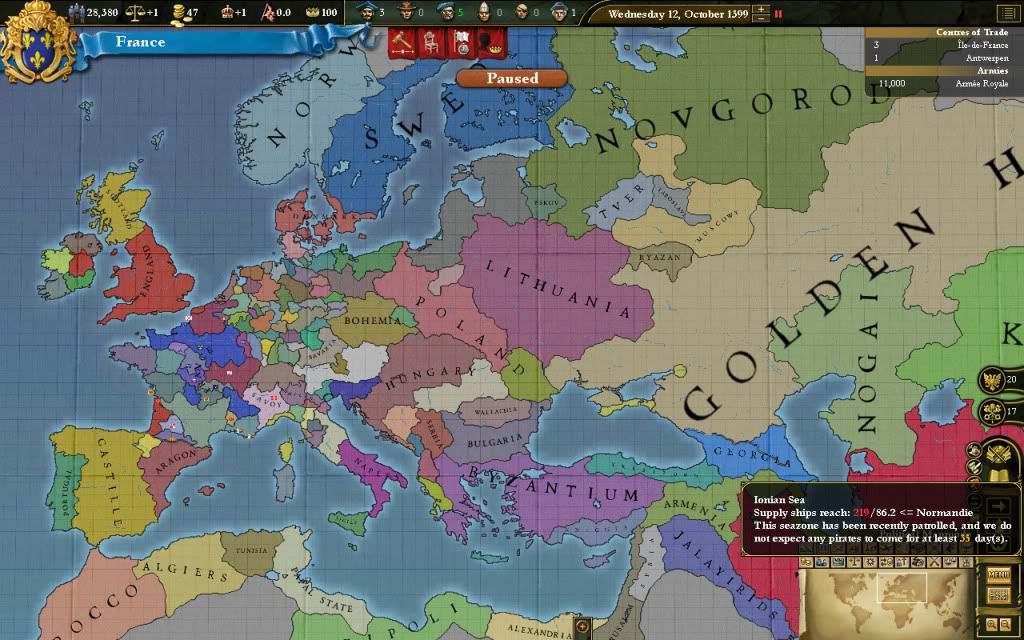 The Pope pulled off way more succesful crusading shit than in our timeline, and the Crusader Kingdoms are still around, and the Pope even has North African holdings. Additionally, the Byzantines have only now begun to give up ground, and Orthodoxy is, in general, far stronger. On the other hand, Catharism is still around, and growing in the south of France.
Dark Continent: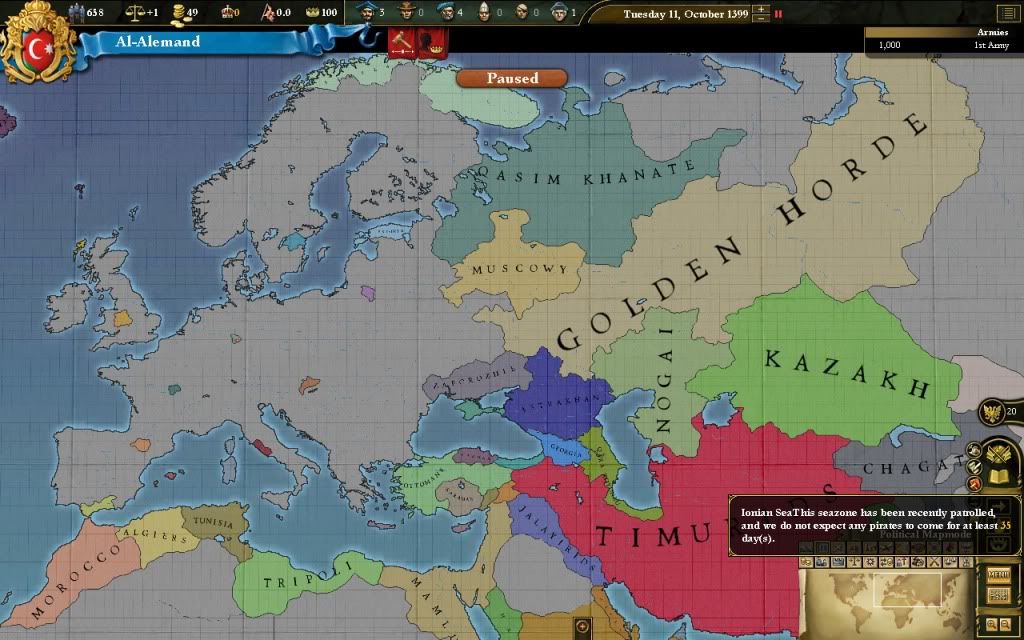 The black plague basically whiped European civilization off the map. This is the only scenario where there are really significant changes outside of Europe, with a significant number of American and African nations being added, and these places generally being strengthened.
In general, Paradox games tend to be pretty Eurocentric, and even after mods, they tend to be really lackluster when it comes to actually playing as African or native American nations, but sometimes it works out.
That should be it for now.
Oh yeah, ask any questions if you have them, and also, suggest countries you might want me to play eventually.
Edited by Defeatist Elitist, 27 March 2012 - 03:03 AM.