Awright, on to other planets, this week we are discussing: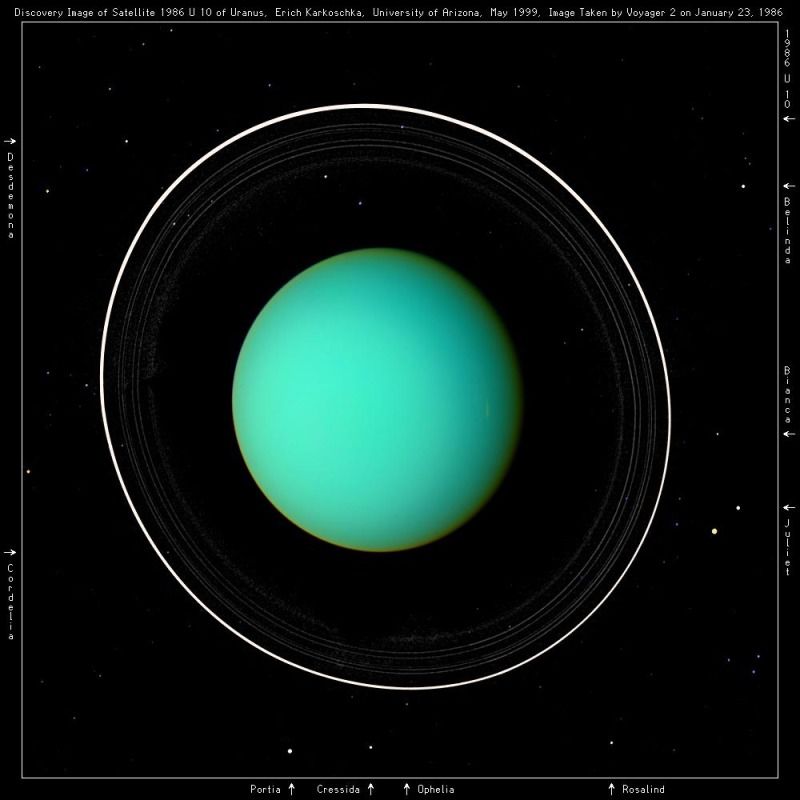 General Riff-Raff
Uranus (if you're a prude, it can also be pronounced yer-rin-is or if you're a Sailormoonfag, ooh-rahn-is), the tilted, not so amused twin sister of Neptune! Uranus gets the title of being the very first planet to be discovered by telescope (by William Herschel), as well as the only planet in the solar system who has a symbol not god based. Instead, Uranus gets the "H" in Herschel's last name. The first thing one notices when seeing Uranus, is one, the awesome vertical rings, which I will discuss in depth later, as well as the bland feature, mixed with the turquoise hue, giving Uranus a very mellow look. Because Uranus is essentially Neptune in composition, I won't bother with the make up of the planet, rather jump right into why it's different from Neptune, and the theories surrounding why it is like that.
Myths n' Shit
If Uranus is exactly like Neptune, wouldn't there be speculated oceans as well? Actually, not really, Neptune has a core that can warm up its mantle, allowing for possible liquid in its mantle. Uranus's core, for some reason, emits little to no heat. As a result, this planet's internal structure would most likely be frozen ice of whatever it holds, diamonds, ammonia or water, truly perpetuating its "ice giant" title. Still, bringing home a giant ice diamond covered in clouds would still please the missus if you asked me..
Right, so why is the core dead? The most accepted idea is that being close to the Kuiper Belt, it was probably unfortunate enough to get slammed with something large millions of years ago, and whatever crashed into it hit it so hard that it knocked the planet on its side, as well as damaged the core well enough for it to no longer generate heat. Another myth as to why Uranus is on its side is perhaps there was a moon that existed that was very large, that it pulled it over on its side, and the core is indeed functional. If such is there case, where is the moon, did it manage to escape, is it the rings, or what? Furthermore, what of the mellow, but colder than Neptune weather, why is Uranus bland if the core exists? With such mysteries (weather in particular), most people just accept the fact that Uranus is without weather because the core is damaged.
The final myth as to why Uranus is cold and weatherless is look at all the other gas giants. Jupiter has 63 moons, four of them are massive moons that are 1/4th the size of Earth, and bigger than Luna, which is a pretty big moon in the long run. Saturnus has 62 moons, some are also very large, and Neptune has Triton, a class of its own. Uranus, on the other hand, while it does have 27 moons, none are large enough to create tidal friction, and without the friction, there is little heat. Its largest moon, Titania is just as big as Saturn's moon, Rhea, which isn't really that big on the grand scale of gas giant's moons. However, I do have a positive bias towards Uranus, as it's the only planet who doesn't follow the god theme 100%, in both its symbol and the fact that it's the only planet who's moons are named after Shakespeare characters, it takes balls to do that!
We're Invincible, Can Fly and Can Teleport, so Let's Look Around!
There's not really much to see in the planet itself, because of the lack of weather, however, it's interesting to note that there WERE reports of a dark spot, so while it does have occasional weather fits, none are as amazing as the ones seen on Neptune, nor is the wind anywhere close to Neptune, going for average 600 km/h. An interesting sight for Uranus bound tourists would be its moon, Miranda. Miranda through pictures, looks like a piece of paper that got crumpled up into a ball, scientists believe that it is like that because, much like Uranus, it got hit by a comet, blasted into shambles, but Uranus's gravity pulled it back together, which is why it looks so unstable and is abundant in canyons.
Other than that, one can swoon at the rings, which is a tell-tale sign that Uranus is on its side. While we're talking about its side, which point is the north, and which point is the south? There has been many debates about this.
Conclusion
I don't mind Uranus at all, anyone who is related to Neptune must be amazing themselves! It truly is a unique planet definitely worth seeing, if only for the calming turquoise, and upside down rings. Although Venus takes the extreme with the tilt, we'll have to wait until we discuss Venus.
And of course, you can't talk to me about the planets without me bringing up Gustav Holst!
Uranus, the Magician is my favourite movement in The Planets suite by the way, and I urge you all to listen to it. It's very moody in dynamics, much like the cold, but comet visited planet itself! The suspension in the middle of the piece, followed by the dissonant march, then to amazing chaos, then silence is my absolute favourite part ever.
Edited by Maji, 29 July 2012 - 12:57 AM.