A week after announcing the official Chinese version of Fire Emblem Echoes, Nintendo Hong Kong has posted some Chinese screenshots of the game on their Facebook.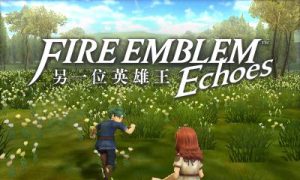 The first screenshot shows young Alm and Celica hurrying towards a meadow. What's rather curious is the presence of the game logo (Fire Emblem Echoes: Another Hero-King), which can mean one of two things.
Either this scene is from the game's title screen (or accompanying demo) or an introductory sequence. We have reason to believe the screenshot is from the latter, since it seems to lead straight into the second screenshot posted.