Out of absolutely nowhere, Nintendo has revealed a stunning new Fire Emblem game for the Nintendo 3DS and Switch subtitled "Battle of Revolution".
An absolute smorgasbord of information can be found on the game's newly launched official site. In fact, there's so much to digest that we'll leave you with the basic details.
Battle of Revolution boasts amazing retro graphics inspired by the NES era games and a unique setting never seen before in Fire Emblem, based on the late Edo period of Japan.
The game launches on 20th April 2017 in Japan, which coincides with the series's 27th anniversary. A limited edition pack will be available, bundled with a pair of authentic art scrolls.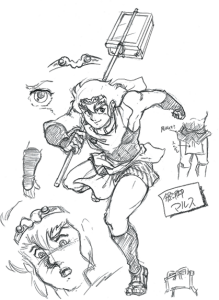 Additionally, fans can look forward to free DLC, featuring a new "Running Marth" storyline, to be released at a later date.