Today, the final piece of DLC for Fire Emblem Echoes: Shadows of Valentia is available to download in Japan and the West. (As soon as the eShop updates in each respective region.)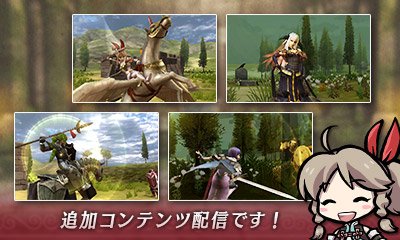 As we've reported in the past, Cipher Companions features 2 maps that, together, allow you to recruit the four Cipher mascots to your party: Emma, Randal (formerly known as Lando), Yuzu and Shade.
This is a very interesting turn of events given that the Cipher card game–where these characters come from–is currently only released in Japan and even the English DLC descriptions acknowledge this.
In any case, you can find the new characters' profiles and detailed breakdown below!
Emma – Trainee Sky Knight
Class: Falcon Knight
Voice actor: Eri Suzuki
A young girl who's training to become a Sky Knight. She's honest, energetic and hard-working–and she will bravely challenge any situation. Although she's a bit of an airhead, oftentimes her keen senses can suddenly rear their head.
Randal – Vagabond Knight
Class: Paladin
Voice actor: Katsuyuki Konishi
A veteran knight who flutters from place to place. At first glance, he seems uncaring and sloppy in appearance, yet he possesses much experience and tact–and is actually a reliable man with exceptional skills. Although he hates trouble and danger, he usually ends up in the middle of it anyway.
Yuzu – Violet Myrmidon
Class: Priestess
Voice actor: Juri Kimura
A girl who's training to reach the pinnacle of martial arts. She has a serious and unpretending personality–and she is always delighted to face off against formidable opponents. Like many girls her age, she has a fondness of cute things.
Shade – Dark Saint
Class: Saint
Voice actor: Hibiku Yamamura
A woman who's adept with magic and possesses wise knowledge. She teaches various things to her puzzled colleagues. Although she generally behaves like an adult, she tends to react poorly to unforeseen circumstances–and during those times, she can seem almost like a little girl.
Base Stats
| Name | Class | Lv | HP | Atk | Skl | Spd | Lck | Def | Res | Mov | Item | Tol. |
| --- | --- | --- | --- | --- | --- | --- | --- | --- | --- | --- | --- | --- |
| Emma | Falcon Knight | 1 | 31 | 11 | 12 | 13 | 13 | 8 | 14 | 8 | Trainee's Lance | 0.55 |
| Randal | Paladin | 5 | 32 | 13 | 15 | 15 | 3 | 9 | 7 | 8 | Wayward Lance | 0.5 |
| Yuzu | Priestess | 1 | 26 | 15 | 13 | 16 | 9 | 7 | 9 | 4 | Warrior's Sword | 0.6 |
| Shade | Saint | 3 | 30 | 12 | 11 | 11 | 7 | 8 | 13 | 5 | – | 0.45 |
Growth Rates
| Name | HP | Atk | Skl | Spd | Lck | Def | Res |
| --- | --- | --- | --- | --- | --- | --- | --- |
| Emma | 45 | 40 | 40 | 45 | 55 | 40 | 10 |
| Randal | 45 | 60 | 50 | 50 | 15 | 35 | 0 |
| Yuzu | 40 | 55 | 60 | 60 | 35 | 30 | 2 |
| Shade | 45 | 45 | 35 | 40 | 35 | 45 | 4 |
Maximum Stats
| Name | HP | Atk | Skl | Spd | Lck | Def | Res |
| --- | --- | --- | --- | --- | --- | --- | --- |
| All | 52 | 40 | 40 | 40 | 40 | 40 | 40 |
Learnable Spells
| Character(s) | Spell 1 | Spell 2 | Spell 3 | Spell 4 | Spell 5 | Spell 6 |
| --- | --- | --- | --- | --- | --- | --- |
| Yuzu | Fire | Sagittae (Lv 5 Priestess) | Recover (Lv 1 Priestess) | – | – | – |
| Shade | Nosferatu | Freeze (Lv 5 Saint) | Silence (Lv 1 Saint) | Rescue (Lv 10 Saint) | Physic | Seraphim (Lv 7 Saint) |
(Otherwise has access to the Generic spell lists if Class-Changed to a non-default class.)
Preferences
| Character | Plain | Rich | Sweet | Bitter | Meaty | Rough | Refined | Tasty | Yucky |
| --- | --- | --- | --- | --- | --- | --- | --- | --- | --- |
| Emma | | | | | | | | | |
| Randal | | | | | | | | | |
| Yuzu | | | | | | | | | |
| Shade | | | | | | | | | |
Support Bonus
Emma
Support Partner
Rank
Hit
Crt
Avo
CEv
Required Points
Required Act
Randal
C
+3
–
–
B
+7
–
–
A
+12
–
–
Yuzu
None
+5
–
–
Shade
None
+15
–
–
Randal
Support Partner
Rank
Hit
Crt
Avo
CEv
Required Points
Required Act
Emma
C
+3
–
–
B
+7
–
–
A
+12
–
–
Yuzu
None
+5
–
–
Shade
None
+5
–
–
Yuzu
Support Partner
Rank
Hit
Crt
Avo
CEv
Required Points
Required Act
Emma
None
+3
–
–
Randal
+3
–
–
Shade
C
+5
–
–
B
+10
–
–
A
+15
–
–
Shade
Support Partner
Rank
Hit
Crt
Avo
CEv
Required Points
Required Act
Emma
None
+3
–
–
Randal
None
+3
–
–
Yuzu
C
+5
–
–
B
+10
–
–
A
+15
–
–
Items
| Icon | Name | Mt | Rng | Hit | Wt | Effect | Combat Arts |
| --- | --- | --- | --- | --- | --- | --- | --- |
| | Trainee's Lance | 2 | 1 | 100 | 0 | – | Solo Triangle Atk. |
| | Wayward Lance | 3 | 1 | 70 | 2 | Crt +20 | Heaven or Hell |
| | Warrior's Sword | 6 | 1 | 80 | 2 | Crt +20 | Armor Disruptor |
(Forge data will be added later.)
Combat Arts
| Name | SP | HP- | Mt+ | Hit+ | Effect | Found |
| --- | --- | --- | --- | --- | --- | --- |
| Solo Triangle Atk. | 20 | 5 | | | 3 consecutive hits | Trainee's Lance |
| Heaven or Hell | 20 | 4 | | -30 | Crt +30; 2 consecutive hits | Wayward Lance |
| Armor Disruptor | 15 | 5 | 5 | 30 | Crt +10; deals effective damage versus armoured enemies | Warrior's Sword |