The last Tap Battle has faded away, which means it's time for another new Tap Battle in Fire Emblem Heroes! The latest is titled Illusory Dungeon: Festival of Heroes, and you can find it in the Events menu.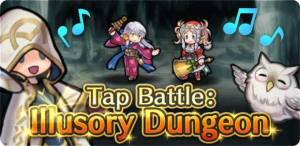 Like all Tap Battle events, the first 40 floors are now available, with 20 more floors arriving each day over the next few days. Once we hit the end at Floor 100, we'll get three additional Extra Stages. Makes sure to tap your way through each stage once to get all the nice rewards!
With the recent Version 2.8 Update, you can also now speed up your Tap Battles as well. You can find the option under the Tap Battle Settings as "Speed". It defaults to x1 but you can increase it as high as x3 in .5 increments. Play around with this setting to find the speed that suits you best.
Additionally, Tap Battles also bring more daily quests as a source of Hero Feathers and Great Badges. We'll get another series of quests, these ones bringing Orbs and Accessories, on 25 August.
Illusory Dungeon: Festival of Heroes will be around for almost a whole month, ending on 9 September. Presumably, we'll get another new Tap Battle then.
In the meantime, Feh's Summer Celebration marches onward! If you've been logging in every day, today was your last day of Orbs from the first Log-In Bonus. However, the next one will be starting up later this week, bringing another 20 Orbs! The daily summons, Special Maps, and EXP/SP boosts are still on-going. They'll end with the daily reset on Thursday, 16 August.