Fire Emblem Heroes has a new patch update – available from today! In order of appearance within the update, here's a quick summary of what's ahead:
Abyssal difficulty for daily Grand Hero Battles
Lite Data Version
New weapon skill and weapons to refine
Favourite-mark names
Help text consistency changes for certain special skills, and explanation for how damage is calculated.
First up: Abyssal difficulty has been added to the seven Grand Hero Battles that were introduced into daily rotation on the 13th of February 2018.

This includes: Navarre, Michalis, Ursula, Xander, Lloyd, Narcian, and Female Robin. The Golden accessory rewards contain a Golden Ducky, and that's all that really matters in this update. No bias. The seven Gold items are below:

Image source: user Kaz_Kirigiri on Reddit
They all look pretty neat, to be honest. I think the Golden Mysterious Mask will see a lot of use, too. Today is coincidentally Navarre's turn in the daily rotation, and beating his map on Abyssal difficulty will net you the glorious Golden Ducky. Get on it!
Click "Read more" below for more details on this patch update.
Next up: The option to use Data Lite Version, as opposed to the HQ Version of Fire Emblem Heroes. Intelligent Systems must have had many concerns from players regarding the overall size of the game – especially as it continues to grow with every update.
The current size of the game in HQ is 1224.6MB. Lite will reduce this to 277.7MB. That's over 77% decrease in App size.
The graphic and sound quality will be lower with the Lite Data version, but if your phone's internal memory is running too low for comfort or you can't play Heroes at all because it's too big, this will be a godsend. New players will have the option to use Lite from the get-go, so re-rolling for your favourites will be much less painful, should new players wish to go that route.
If you wish to use the Lite version, make sure your Fire Emblem Heroes account is linked to your Nintendo Account. I cannot find confirmation of whether or not your account progress will be deleted, but the update specifically says that game data will be deleted and replaced with the Lite version. So, better to be safe than sorry. Link your accounts – even if you've no intention to use Lite.

Next up: New weapons and refinery skills for Tana's Vidofnir, Lon'Qu's Solitary Blade, and Innes' Nidhogg!
As normal, you can upgrade these weapons using Arena Medals, Divine Dew (obtained primarily through using Refining Stones) and the Hero's own SP, via the Weapon Refinery menu.
These weapons will also receive +Atk, +Spd, +Def and +Res variants, however these will miss out on the special skill effect shown in green text in the above images.
Next up: The ability to change the names of your favourite markers!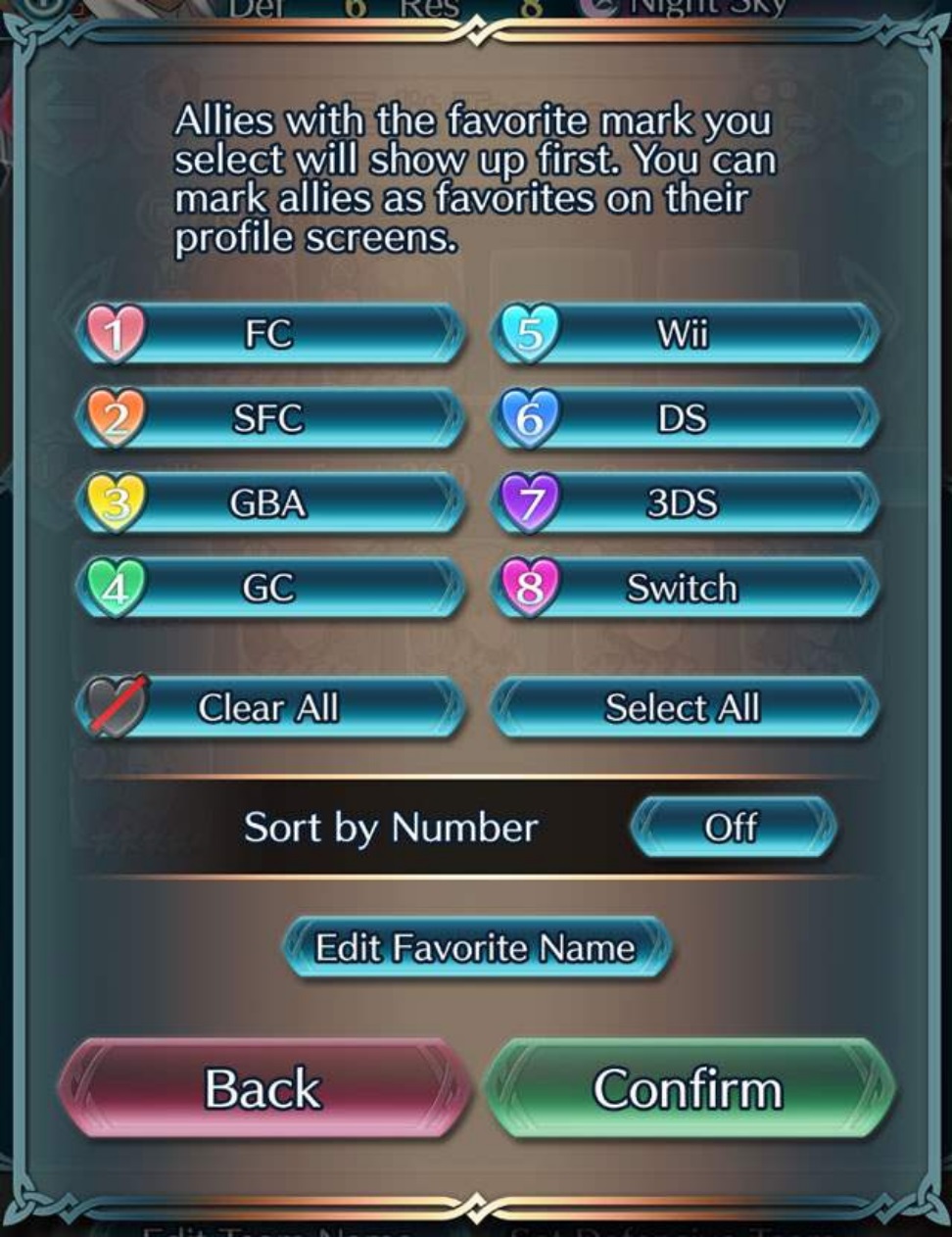 Name them whatever you want. Use them to help you keep track of which colours you assign to your current projects, future projects, completed projects, or even by game console, as per the example provided by the game devs above.
Finally within this update, we have consistency edits to the help text for certain Special skills. The affected skills are Retribution, Reprisal, Vengeance, Dragon Gaze, Draconic Aura, Dragon Fang, Glowing Ember, Bonfire, Ignis, Chilling Wind, Iceberg, Glacies, Regnal Astra, and Fire Emblem. Damage output remains the same – nothing has been changed internally.
We were also provided with detailed information on how damage dealt is calculated, through three steps (click to view the steps):
That's it for the 2.10 Heroes update! What are you most looking forward to with this? Do I even have to ask? Of course it's the Golden Ducky – available today in Navarre's Abyssal map. If you don't manage to obtain it today, there's always next week!