Out of nowhere, Intelligent Systems has announced that an original soundtrack (OST) dedicated to the Elibe duology, Binding Blade and Blazing Blade, will be coming out on 19th December 2018 in Japan.
This is particularly notable since the original games came out 15 years ago (wow, it's been that long…) and a full OST was never sold, although a partial soundtrack was bundled with an artbook.
However do note that this release doesn't mean anything special, because Path of Radiance and Radiant Dawn soundtracks were released in 2015–and nothing special happened back then.
Presumably, Intelligent Systems is simply capitalising on the fan demand growing over the years. Currently the only games missing official soundtracks are The Sacred Stones and New Mystery of the Emblem.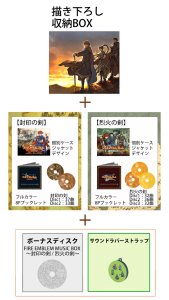 Anyway, onto the soundtrack itself! The full package contains the following:
A collector's box, to fit in both games' soundtracks, with brand new artwork.
Jewel cases for each game featuring the game's box art.
A full colour 8-page booklet for both games.
5 CDs featuring a total of 170 tracks between the two games.
A bonus "Music Box" CD that has 10 music box style arrangements.
A sound rubber strap that plays a variety of sound effects from the games.
The whole thing costs 5,200 Yen including tax (about 46 dollars). For more details, please check Intelligent System's page here. Below you can find the track listing in English.
Binding Blade
Disk 1
Prelude ~ Tale Passed Down From Generations
Fire Emblem Main Theme
The Beginning
I Charge
II Reclaim the Capital
III Unseen Enemy
IV Final Chapter
Beyond the Sky (Roy's Journey)
Will of One (Roy's Battle)
Within the Great Nature (Roy's Expedition)
Beneath A New Light (Roy's Courage)
Path of the Divine Generals (Roy's Challenge)
Scars of the Scouring (Roy's Journey)
FE Gaiden Player Map
Shadow Approaches (Roy's Confusion)
Binding Ties (Roy's Friendship)
Winning Road (Roy's Hope)
Deer of the Mainland ~ Lycia, Etruia
Frontier ~ Western Isles, Missur Peninsula
Polar Region ~ Ilia, Sacae
Land of Dragons
Sanctuary of Dragons
Legendary Inheritance
FE Gaiden CP Map
Messenger From the Darkness
Attack!
Revenge!
Poem of Breeze
The Last Dragon
Fight to Tomorrow
In the Name of Bern
Battle For Whose Sake
Dancer Battle
Shaman in the Dark
Curing
Healing
To the Heights
Disk 2
An Unexpected Caller
When the Rush Comes
Invisible Thread
Distant Utopia
Triumph
Into the Shadow of Triumph
Shaman of Darkness
The King of Bern
Princess of Fate
Suspicious ~ Wyvern General's Theme
Dignity ~ Wyvern General's Theme
Melancholy ~ Wyvern General's Theme
Time of Sadness
Cath
Join Us!
Happiness Abounds
Main Theme Motif
Shock I
Shock II
Talking
Captivating Dance
Prepare to Charge
Secret Shop
Arena ~ Entrance
Arena ~ Battle
Character Death
Game Over
Results
After the War
Epilogue
Eternal Wind
Link Battle Victory Fanfare
Link Battle Result
Blazing Blade
Disk 1
Opening: History Unveiled
Fire Emblem Theme
A Hint of Things to Come
Road of Trials
Destiny Enlaced by Fear
Winds across the Plains
Precious Things
Companions
Friendship and Adventure
Distant Travels
Inescapable Fate
Dragon's Gate II
Winning Road (Blazing Version)
Binding Ties (Blazing Version)
Scars of the Scouring (Blazing Version)
Raise Your Spirits
Shadow Approaches (Blazing Version)
Enemies Appear
The Messenger
Darkness Comes
Dragon's Gate I
Nabata's Wandering Messenger
Legendary Inheritance (Blazing Version)
Raid
Messenger from the Darkness (Blazing Version)
Strike
Safeguard
Victory Now!
Rise to the Challenge
Softly with Grace
Everything into the Dark
Campaign of Fire
Disk 2
Blessing of the Eight Generals I
Healing (Blazing Version)
Curing (Blazing Version)
Receive the Blessings of Water
Ride the Wind
To the Heights (Blazing Version)
An Unexpected Caller (Blazing Version)
When the Rush Comes (Blazing Version)
Land of Swirling Sands
Ships and Homes
Silent Ground
The Inn
Going My Way
Together, We Ride!
A Knight's Oath
Happiness Abounds (Blazing Version)
Merlinus
Final Farewell
Requiem
Recollection of a Petal
The Cogs of Fate
The Eight Generals
The Archsage Athos
Distant Utopia (Blazing Version)
What Comes from Darkness
Black Fang
Calamity Bringer: Nergal's Theme
Nergal's Wrath
Stratagem
The Kingdom of Bern
Bern- A Mother's Wish
Shocking Truth I
Shocking Truth II
Triumph (Blazing Version)
Into the Shadow of Triumph (Blazing Version)
Main Theme Arrangement
Disk 3
Blessing of the Eight Generals II
Girl of the Plains: Lyn's Theme
Lyn's Desire
Light to Tomorrow
One Heart: Eliwood's Theme
Eyes of Sorrow
Unshakable Faith
Loyalty: Hector's Theme
The Grieving Heart
Reminiscence
Shattered Life
Anguish
Respite in Battle
Prepare to Charge (Blazing Version)
Armoury
Shop
Fortune-Telling
Arena Entrance
Arena Battle
Arena Victory
Arena Tactics
Within Sadness
Game Over
Legend of Athos
Results (Blazing Version)
Treasured Hope
Beneath a New Light
The Path to Greatness
In the Name of Bern
Avoided Fate
Mystery of the Emblem: Legend of the Dragon God
Genealogy of the Holy War: Royal Palace of Silezha
Bonus Disk
Fire Emblem Music Box- Binding and Blazing Blade
Beneath A New Light (Roy's Courage)
Distant Utopia
Shaman of Darkness
Winning Road (Roy's Hope)
Eternal Wind
Winds across the Plains
Precious Things
Friendship and Adventure
Strike
Reminiscence