Another BHB has returned to Fire Emblem Heroes! Bound Hero Battle Revival: Leo & Elise is now available in the Special Maps menu.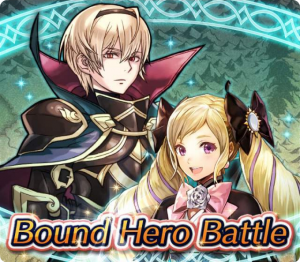 This is a great opportunity to beat these maps if you haven't had a chance to do so previously. For newbies and veterans both, there are also a series of quests for this battle as well! Use Sharena, Fjorm, and Fliers to complete the battle in certain ways to win additional Orbs. You can see further details in the Quests & Missions page.
Bound Hero Battle Revival: Leo & Elise will be available for one week, ending next Sunday, 27 January.
We also have another New Power Banner to celebrate the latest Weapon Refinery additions! You can spend some Orbs for your shot at 5★ focus units for Tailtiu, Deirdre, Julia, and Seliph. Check out our earlier article for details on their new weapon enhancements.
This banner will be available for about two weeks, ending on 1 February.
Finally, Heroes has also given us a sneak peak at the new Special Heroes scheduled to arrive later this week! Check out the silhouettes here:
It's a bit too soon for Valentines-themed heroes, so we don't quite know yet what this theme will be. Feh's says in-game:
These Heroes look like they're free of tension and ready to battle! …I can't wait!
The banner is expected to go live on 23 January. As such, we'll probably get a proper reveal trailer in the next few days. In the meantime, what do you think the theme is and who could these heroes be?