English fans are still waiting for the official translation of Vestaria Saga I, the latest game by the creator of the Fire Emblem series. But lo and behold, S_Kaga has just released both of his brand new gaiden (side story) games on the same day.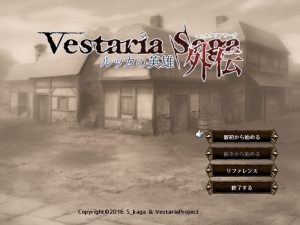 Left: Silverbirch's Sacred Sword, Right: Heroes of Lucca
You can download the games via the official Vestaria Saga webpage. Check the Download page, then scroll to the bottom. You'll need to click the top option to accept the terms and conditions. Then the download links will appear.
The first download link is for the original Vestaria Saga I, while the next is for Silverbirch's Sacred Sword and the third is for Heroes of Lucca. Like the original game, the side stories are Japanese-only and available on PC only.
Although knowledge of Vestaria Saga I isn't necessary, it is highly recommended that you play it first because both side stories are deeply connected. All three games are free, although the English version of Vestaria Saga I will be paid (to offset translation costs).
Silverbirch's Sacred Sword takes place after the events of Vestaria Saga I. Troubled by recent events, Zade decides to travel to the Shrinedom of Vesta alongside Akkord, a noble Sphere Mage, and other comrades.
The game is considered somewhat of a midquel between Vestaria Saga I and the upcoming Vestaria Saga II. Apparently it will tie up loose ends between Zade and Athol. In total, there are a whopping 25 chapters.
Heroes of Lucca is a prequel that tells the untold story of how the villagers of Lucca rescued Alicia, an enigmatic traveling cleric. It's a much more condensed side story compared to Silverbirch, lasting 4 chapters.
Both games recycle assets from Vestaria Saga I, such as the characters, but I'm guessing the maps are all new. In any case, it's great to see S_Kaga and his team continue to develop the world of Vestaria!
(All images are copyright S_Kaga and Vestaria Project.)