Last month on 22 March, Fire Emblem Cipher Series 16 came out in Japan!
Titled "O Courage! O Soul Aflame!", the set contains cards and characters from a wide assortment of FE titles:
Scroll on down below for a closer look at the cards and promotional items available in the set. NOTE: Some of the artwork and cards contained in this set do contain spoilers for their respective games. Proceed with caution if you've not yet finished playing these titles.
S16 – Binding Blade Cards
The (young) lion's share of S16 cards are devoted to Binding Blade. Roy and his comrades take up the first 40 cards of the set. As you might expect, Roy himself is the star, alongside the lady Lilina. The two share an adorable joined-art in their SR+ variant cards.
The main focus of the SRs in the FE6 portion of the set is to showcase wielders of the Legendary Weapons of Elibe. Just like in-game, Roy takes the Binding Blade for himself. Four other allies take up the legendary weapons in S16: Lilina with Forblaze, Deke with Armads, Miledy with Maltet, and Sophia with Apocalypse.
When joined together, these cards take five out of nine places in one super large joined art! The other four cards are still a mystery, and will likely come out in a later set.
In addition to Miledy, many other FE6 characters make their Cipher debut in this set. Two of them, Barth and Gwendolyn, share a Triangle Attacking joined-art along with Bors. Additionally, Saul and Dorothy arrive for the first time, both referencing their introductory scene from Chapter 5 in their unpromoted cards.
Other Cipher debuts include: Ogier, Gonzales, Lalum, Cath, Hugh, Celdia (from Hasha no Tsurugi), Gale, and Idunn. Idunn's appearance is rather timely, given her recent initiation into Heroes as well. Both she, Lalum, and Gale get R foil cards.
Furthermore, a few more Binding Blade characters get repeat cards as well. Shanna gets a lovely art with Thea and Juno in the background. Siblings Klein and Clarine share a joined-art in their alternate art R+ cards. Lastly, the final remaining R card in this section of the set goes to another Heroes star, Fae.
S16 – Shadows of Valentia Cards
The next portion of the set contains characters from Shadows of Valentia. This time around, the cards are specifically focused on characters who fight with Celica's Army. As such, Celica herself leads the show, complete with an R foil, SR, and alternate art SR+.
The other two SoV SR of the set go to two of Celica's earliest companions, Mae and Saber. Both of them appear in their applicable Overclasses, Enchantress and Yasha respectively.
There are also a few new Echoes characters appearing in Cipher for the first time as well. For player characters, Atlas, Jesse, and Nomah all debut in this set. We also get some new non-player characters, including Jedah, Mila, and a generic Witch. Mila gets one of the game's R foil cards.
The final two R foils in this portion of the set go to Boey and Conrad. Furthermore, Conrad gets a special R+ card with slightly altered artwork showing his face beneath the mask.
The remainder of the red cards are a hodge-podge of assorted repeat characters. Genny, Sonya, and the Whitewing sisters Palla, Catria, and Est finish up this section.
S16 – Radiant Dawn Cards
Next up in the set are cards based on Radiant Dawn. In previous Tellius sets, either Ike or Micaiah has been the leading lord, but this time Sanaki is the main green character. She gets an absolutely gorgeous SR card wielding both Alondite and Ragnell.
A few characters who are close to Sanaki also appear in this set. Among them are Sigrun (with her first SR card), Tanith, Sephrian, and even Altina herself.
In addition to Altina, two new Tellius playable characters also appear in Cipher for the first time: Brom and Gareth. We also get our first cards for Ashera, who gets an R foil, and one of her Disciples of Order.
The remaining cards are spread among an assortment of Radiant Dawn's characters. Kurthnaga gets the set's remaining SR, while Nephenee, Tormod, and Zelgius get the remaining R foils. Among those, Nephenee and Tormod also get alternate art R+ cards. Muarim and Vika finish up the cast with non-foil representation.
S16 – Fire Emblem Heroes Cards
The last handful of cards in the set go to some Heroes original characters. Eir, the leading lady of Book III, takes the headline with the only colourless SR card.
There are also two R foil cards in this portion of the set, one based on the playable, "Brave" version of Veronica and the other for Book III antagonist Thrasir. Thrasir's partner in crime Líf also gets some non-foil cards.
The final two Heroes cards go to the special Spring versions of Alfonse and Sharena.
S16 – Secrets and Mascots
It wouldn't be a proper modern Cipher set without a few secret cards and some love for the Cipher original characters! Continuing the tradition of recent sets, S16's R+X cards feature chibi versions of some of the set's foil cards. This time around, the distinction goes to Celica and Fae.
Additionally, we also get a few new cards for the Cipher mascots this set as well. Yuzu appears in the Elibean portion of the set as two promoted classes, a Swordmaster and a Nomadic Trooper. Shade appears as a Witch in red, and Emma flies in as a green Seraph Knight.
S16 – Booster Box Promos & Release Goodies
As usual, S16 booster boxes each come with an assortment of free goodies inside. This time around, each box includes one Preview Promo for S17, one holo Marker Card, and one Promo Sleeve Pack, chosen randomly from two possible options.
The preview promos for S17 are very unique this time around! Instead of the original faire, these preview promos feature Marth and Lucina as based on their original debuts in Cipher's first set! The artwork for both cards features many more Cipher art of lords in the background.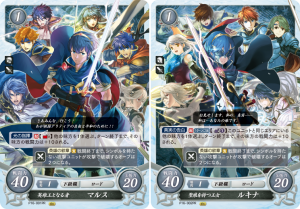 The preview promo cards are paired with holographic Marker cards of Tiki and Nowi. These special chibi arts were originally used as last year's Cipher Sai promos.
Last up are the promo sleeves, this time featuring chibi artwork of Roy and Celica. Each one contains five sleeves.
S16's release promotion this time around was sticker sheets! Each booster box purchased comes with one pack of two sheets of stickers. The stickers contain Cipher artwork of various characters saying different phrases in Japanese. There are three different styles in total.
S16 – Promotional Cards
Series 16 will also include a number of promotional cards as expected. The first two promo cards with the P16 heading are the two preview promos up above. The next six are the next season's Tournament Promos:
The first two cards, featuring Old Eliwood and Colourless Faye are new cards completely unique to these tournament packs. Young Roy, Clarine, Celica, and Bride Sanaki are all reprints of S16 cards with new artwork.
So far, these are all the promos we know of for S16. We might get some future promos announced in the future, such as magazine promos, but any information about that is still forthcoming. If any are revealed, we'll be sure to post about it!
Set List and Closing
While this article aims to be an overview of S16, it does not include all of the cards the set has to offer. If you'd like to see clean, digital images of all cards in the set, including all of the rare + variants, you can view them on the Official Cipher website. You can also see all the cards and their translation on the Serenes Forest Cipher Wiki.
That's all we have so far for S16! With the set now released, there will likely be no further news to share. However, we may still see some more promos revealed.
Stay tuned for further news and information regarding S17, our June set. Soon we'll share the pre-release information and art that we've seen so far. Reveals and a Spring Livestream will likely be scheduled for May. Hopefully we'll get some details soon!
Credits:
Thanks to Y!J sellers nahoko0503 and arubeki_katachi and also the Fullahead Rakuten shop providing supplementary photographs for some cards.