There's roughly one month to go until Three Houses is released. Apparently, retailers in Japan are now stocking the cards for the digital version of the game. Naturally, it's not possible to play the game just yet, but there are some neat details on the back of the card.
Firstly, the game's file size is 11.9 GB (and over). Which is useful to know if you're planning to get the game digitally. For reference, the Switch version of Fire Emblem Warriors was around 13 GB. Meanwhile, the 3DS games weighed around 1 GB each.
Next, the game will support Nintendo Switch Online (the paid service). From what we know, the game does not feature online (or local) multiplayer (via Game Informer etc.). Presumably it's for the Global Activity feature, which compares weekend statistics from players across the world.
The game will support amiibo, but no details were given. Earlier, we saw an amiibo Gazebo in the monastery grounds. I'm also curious if there will be new amiibo created for the game; for example of Byleth and the three house leaders. We had new amiibo for Echoes and Warriors.
Lastly, to nobody's surprise, the game will have paid DLC. This time they gave some details but not a lot. Apparently you'll be able to purchase things like new quests (the ones you can accept from bulletin boards), side stories (presumably paralogues) and costumes. I'm rather intrigued by the last one…
(Via lancelam on Reddit and gamer.com.tw)
In slightly unrelated news, Empty recently announced some new lines of merchandise for the game, scheduled for release during late July.
Acrylic Key Holders – 600 Yen each (plus tax)
Otherwise known as key-rings. Each key-ring measures approximately 5 x 7.5 cm. There are 27 designs in total, for male and female Byleth, Sothis and the 8 students from the three houses. You will be able to individually order the one(s) you want.
Hand Towels – 700 Yen each (plus tax)
These are stylish cotton towels, measuring approximately 20 x 20 cm. There are three designs available, based on the three houses.
Pass Cases – 1200 Yen each (plus tax)
I've seen these around and I have one of my own, but I'm not well versed in how these are used. I'm guessing you can fit ID cards, bus passes and stuff like that inside. The cases measure approximately 9.5 x 7 cm. There are three designs: the three houses and the Goddess's mural.
Metallic Clear Files – 700 Yen each (plus tax)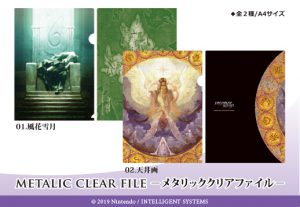 Lastly, these are extra-fancy clear files with a metallic-like finishing. They are the standard A4 size. Two designs are available: Seasons of Warfare (or the game's Japanese title if you'd prefer) and the Goddess's mural. Both designs are double-sized.
If you're interested, you can pre-order these from places like AmiAmi.
(Thanks to @TheTanooki for the reminder!)