Fire Emblem Heroes' Harvest Festival Celebration that was announced in the recent Feh Channel is finally upon us!

To kick it off, we've got the 2019 Halloween banner "A Monstrous Harvest" available now to summon from.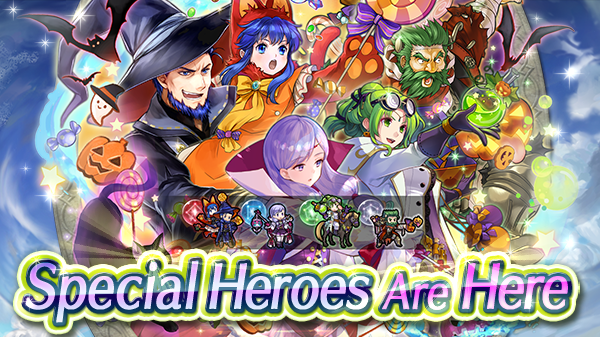 Hector (ft. Lilina), L'Arachel, Dozla and Ilyana are wearing the appropriate attire for the upcoming holiday. If you haven't yet seen what skills they have available, you can go and watch their introduction video here.
Other things that are happening as part of the Harvest Festival Celebration can be viewed if you click on "Read more".
Harvest Party Log-in Bonus
Log in on at least 10 different days between the 9th of October 7:00am UTC to the 23rd of October 6:59am UTC to pick up a total of 20 Orbs.
For 72 hours from the 9th of October 7:00am UTC, 96 hours from the 14th of October 7:00am UTC, and 48 hours from the 23rd of October 7:00am UTC.
For 48 hours from the 12th of October 7:00am UTC, and 48 hours from the 19th of October 7:00am UTC.
Harvest Festival Daily Reward Maps
For 7 days from the 9th of October 7:00am UTC, we will get new maps to clear under Special Maps once a day. Each map will come in Normal and Hard difficulties, each rewarding 1 Orb, for a total of 14 Orbs available to earn.
Complete the Aether Raids quests to earn Fall Aether Stones. You can then trade these in for Pumpkin Lanterns, Haunted Coffin, and Witch's Cauldron structures that can be placed in Aether Raids/Resort.
There are also Aether Resort Quests that will let you earn Orbs for completion. You can earn up to 2 Orbs for building a Field and planting anything there.
Right now, there is an oversight by the devs that means you can't collect the Orb for building the Field structure if you built it before today. However, the official FEH Twitter account recently confirmed that anyone who cannot complete the quest because they built it yesterday will have the quest automatically set to complete once the update to patch the oversight is applied. So sit tight, the Orb will come.
You can fight against both Lilina & Cecilia and Hector & Matthew Bound Hero Battles to earn 3-Star neutral copies of OG Eliwood and OG Roy, as well as 2 Orbs from the quests.
Everyone gets 5 First Summon Tickets upon logging in. They can be used only on the newest Halloween banner. Good luck with your summons!
The Twitter-based event will reward all FEH players 5,000 Feathers and 10 Orbs if the Twitter crowd can get at least 5 out of 7 answers correct. The Twitter quiz is on-going right now, so log-in to your Twitter accounts and vote for the correct answers!
Link to the FEH English Twitter: https://twitter.com/fe_heroes_en
Link to the FEH Japanese Twitter: https://twitter.com/fe_heroes_jp
There are also two Special Orb Promos running from today for a limited time:
October: 21 Orbs + 6000 Feathers for the regular price of a special monthly Orb package, and
Fall: 30 Orbs + 20000 Feathers, which is a bit more pricey but comes with more in the package.
Also today, and not Thursday as it normally is for whatever reason: Tactics Drills! "Trick Duo and Treat Mage" is available to challenge now under Skill Studies. Use Hector ft. Lilina and Ilyana to clear the map and pick up that Orb!