The new banner trailer for the upcoming Mythic Hero has dropped, and the next one will be from the latest story entry…it's Plumeria: Lewd Dream. Plumeria is a Astra-blessed, Red Infantry Flier, that bestows the Speed bonus on same-blessed allies during the appropriate season, and is a Dancer like Peony. Additionally, she brings with the next -Rein skill, Atk/Res Rein 3, not necessarily a must-have for slow mage nukes and maybe even manaketes that want to buff their own damage and don't quite need the speed support; it's definitely a skill worth its while.
Included in this banner will be the normal 8% summonable focus heroes (three of each color), including:
Blue

Ephraim (Legendary)
Lilith
Lucina (Legendary)

Colorless

Duma
Julian
Leif (Legendary)

Green

Celica (Legendary)
Micaiah (Legendary)
Yune

Red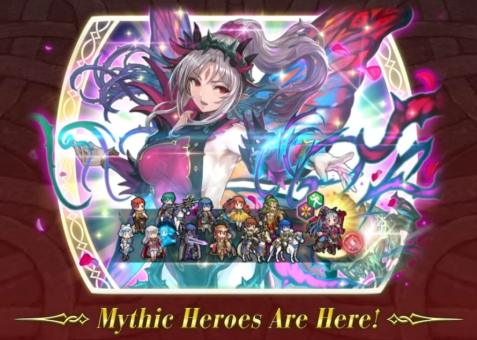 The banner will open up on 12:00 AM PT September 30 and be available until 11:59 PM PT on October 6.
Details on Plumeria's skills can be seen below.
Unit: Title, a Red Mage Flier (Mythic Hero: Speed Blessing)
[Voice: Nicole Gose | Art: Yoshiku]
Flower of Plenty

14 Mt | 2 Rng
Grants Res +3
Grants Atk/Res +3 to allies within 5 rows and 3 columns centered on unit during combat.

Sweet Dreams

Grants another action to target ally and grants Atk/Spd/Def/Res +3 to target ally for 1 turn. Inflicts Atk/Spd/Def/Res on nearest foes within 4 spaces of target foe through foe's next actions.

Cannot target an ally with Sing or Dance, and this skill is treated as Sing or Dance.

Atk/Res Push 4
Sabotage Spd 3
Atk/Res Rein 3

Inflicts Atk/Res -4 on foes within 2 spaces of combat.