As several Summoners have probably assumed by now, Lilina was due to receive a Legendary alt version, and it's about time that she finally came to heat things up.
Lilina herself doesn't come with any groundbreaking inheritable passive skills, but her weapon turbo-charges her special cooldown, and her unique and mighty Special, Gifted Magic, is similar to a pre-battle AoE attack much like her original form's Growing Flame special, but in the shape of a plus (+), targeting foes one position adjacent to the target, and unlike others of its kind, only has a 2 action cooldown.
As with all Legendary Hero banners preceding this one, there will be an 8% summoning focus on our Legendary Hero of choice, plus enough to fill three within each color type. Those heroes include:
Blue

Dimitri [Brave]
Peony
Gatrie

Colorless

Bramimond
Claude [Brave]
Duma

Green

Edelgard [Legendary]
Jill
Plumeria

Red

Celica [Legendary]
Reginn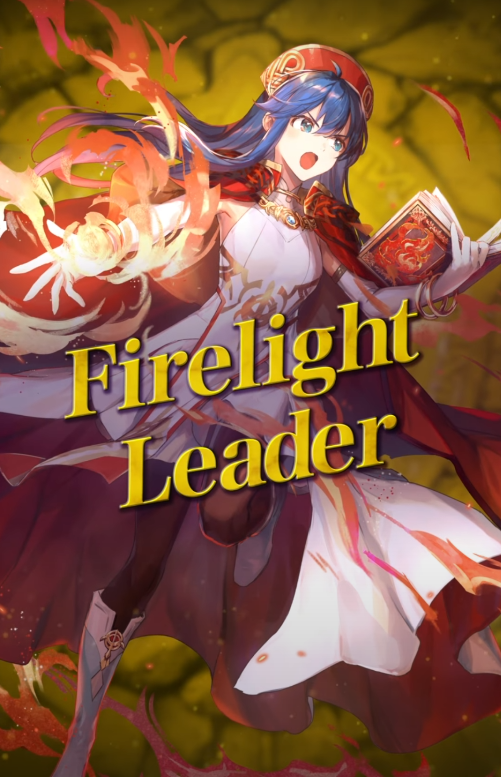 Legendary Hero Lilina: Firelight Leader and her Banner will be available from December 24 to January 3 (all at 11p PT).
For more details on Lilina, including stats and a skill listing, click Read More.
Lilina: Firelight Leader, a Red Tome Cavalry
Voice: Julie Kliewer | Art: azu – taro
Full character art can be seen on Reddit's r/FireEmblemHeroes, courtesy of u/bananasoulee.
Stats:

39 HP | 42 Atk | 21 Spd | 16 Def | 40 Res

Fire-Blessing w/ Duel Effect & Pair-Up ability
Studied Forblaze

14 Mt | 2 Rng
Accelerates Special Trigger (cooldown count -1).
At the start of turn 1, grants Special cooldown count -1 to unit.
At start of combat, if unit's HP is greater than or equal to 25%, grants Atk/Res +6 during combat, and disables unit's and foe's skills that change attack priority.

Gifted Magic [2]

Before combat this unit initiates, foes in an area near target take damage equal to 0.8 x (unit's Atk – foe's Def or Res).

Atk/Res Solo 4
Sabotage Res 3
Pulse Smoke 3