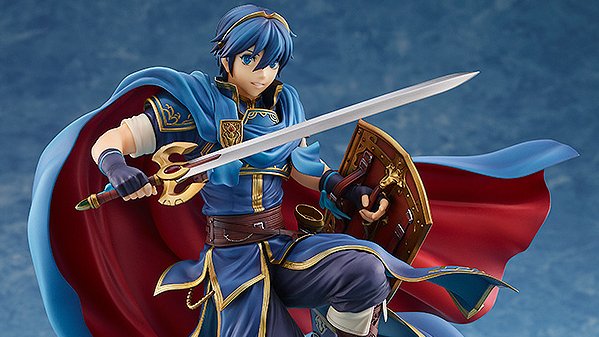 The Marth scale figure is real and it is glorious.
Last time in our update to the new line of official Fire Emblem scale figures by series developer Intelligent Systems, we learned of a teaser to an upcoming third collectible with just a silhouette teaser image to go by, knowing that we'd expect characters old and new.
We placed our bets on who this was going to be, and now the reveal proves us true: the third 1/7 scale figure will be based on Marth!
The official product image for Marth's scale figure, provided by Good Smile Company.
With what looks like the Binding Shield, we think it may be based on his appearance in Mystery of the Emblem.
Marth was first revealed this weekend at the Wonderful Hobby Life for You 33 (or just WonHobby 33) exhibition held at the Akiba CO Gallery in Tokyo, Japan, which Good Smile Company graciously shared updates online. Some fans were already hopeful that Marth would appear, as it was pointed out that Intelligent Systems was listed to participate prior to the event, so Marth's reveal answers to fervent anticipation.
Marth is being featured alongside Ike to check out in-person, as shown by AmiAmi's showgirl Amico.
Release date and price are yet to be determined for Marth, though we imagine he will come out sometime after the already-announced scale figure of Ike (July 2022) and marked up similarly (hovering close to $200 USD). The only other details we could learn from WonHobby is that Marth's sculptor is Tokura, who collaborated with Shoushin Murakawa, both from Knead Co., Ltd.
We've scoured every nook and cranny of the web for any other news we could find, and we were able to confirm one other interesting tidbit: as some fans were able to guess, Marth's scale figure was designed by Fire Emblem series artist Daisuke Izuka. He confirms that more information on the figure will come at a later date (presumably by Intelligent Systems), though we can't say how soon that day will come.
Whatever the case, we'll be sure to provide more updates on Marth's scale figure and any other Fire Emblem products as they arrive.
In the meantime, please enjoy all the taken photographs we could find of Marth, as well as a quick video of the figure up close taken by Amico. Marth may also be found at WonHobby's virtual exhibit, located on the second floor.
(Photos via GoodSmile US, Amico, amiami hobby news, figsoku, and Dengeki Hobby Web)