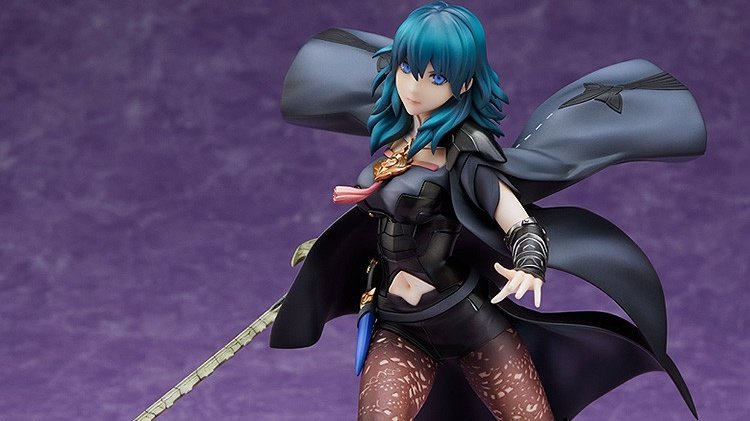 The proven professor from the mega-hit title will be joining the Fire Emblem scale figure lineup in early 2023.
This just in: Intelligent Systems has announced a new addition to their merchandise line of Fire Emblem scale figures, this time of Byleth from Three Houses.
The Byleth scale figured is scheduled for a release in February 2023 at a suggested price of ¥25,000. Pre-orders for it are available on the Fire Emblem Online Shop from now until July 20, 2022, and is also available to purchase at other vendors such as AmiAmi.
Here's a formal introduction to the figure, as provided by Good Smile Company:
"Allow me to demonstrate!"

From the Fire Emblem series comes the fourth figure in a new series of figures made by the developer of the series, INTELLIGENT SYSTEMS!

From the latest Fire Emblem game, "Fire Emblem: Three Houses" comes a 1/7th scale figure of the main character Byleth! Byleth has been captured in figure form in a dynamic pose, swinging her sword as she leads her students in battle.

The figure comes with two versions of the Sword of the Creator that Byleth can be displayed holding—a standard version and a special effect version. The two parts feature the sword in a different form, dramatically changing the atmosphere of the figure. Enjoy viewing the figure from every angle!
Check out a 360° video showcase of the figure highlighting all the careful attention to detail here.
Byleth joins Lyn, Ike, and Marth in the scale figure collection.
As described above, Byleth is the fourth figure in this lineup, thus continuing it and quelling any concerns it might've ended with Marth. True to the FE World blog update last year, we'll be seeing scale figures of familiar faces from Fire Emblem titles old and new, and there doesn't look to be an end in sight. Only time will tell who's next, and when.
No, not that Byleth, the other one!
Just for the record, the scale figure news only applies to that of the female version of Byleth. At this time, there are no known plans for a male Byleth scale figure. Of course, that may always change in the future.
Naturally, the responses to the female Byleth scale figure include comments like "What about male Byleth?", and it takes us back to a similar situation in which Byleth had received an amiibo figure for use with Super Smash Bros. Ultimate, but only the male version despite both present in the game. Whereas the Byleth amiibo news was met with direct confirmation there wouldn't be a second, it's still possible that male Byleth could be released as a scale figure in the future for all we know.
As with any other Fire Emblem scale figure updates, we'll be sure to keep you posted. Until next time, enjoy a photo gallery of Byleth's scale figure below via GoodSmile US.
Byleth will be released in February 2023, while Ike and Marth will both be arriving this summer. Lyn, the first figure in this series, has been available since November 2021.