Today is the 5th Anniversary of Fire Emblem Heroes. As well as various in-game celebrations, Intelligent Systems will be releasing a jam-packed 5th Anniversary Memorial Box in Japan on 31st August 2022.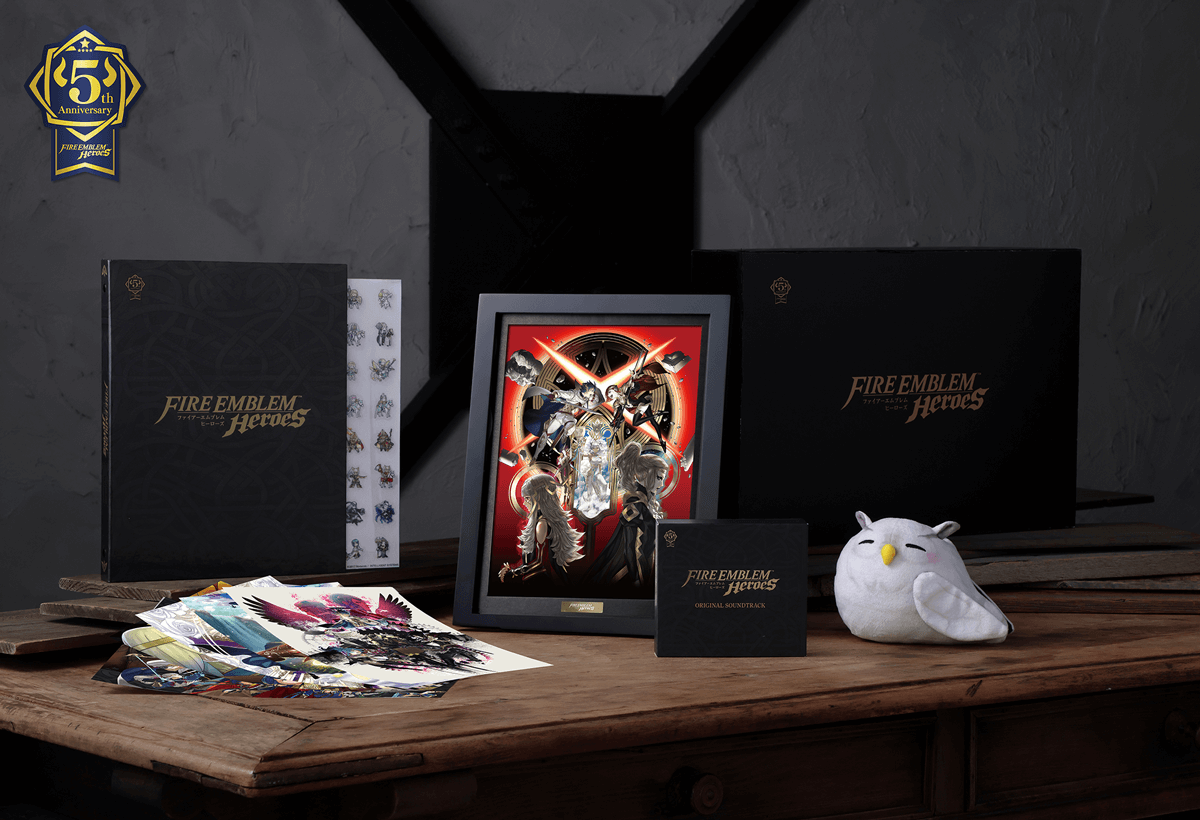 The box includes a 4-disk soundtrack, set of 7 art sheets, a chibi Heroes sticker book and a Feh plush smartphone stand. It'll cost 16,500 Yen (including tax). Pre-orders are open now until 31st March 2022.
Original Soundtrack
Design pending (obviously).
The soundtrack contains 78 pieces of original music used in FE Heroes, split among 3 disks. These include the music that appears in the opening movies, plus the Japanese and English version of "Flower of Ice".
The 4th disk is a DVD with 10 hours of music from past Fire Emblem games that also appear in FE Heroes.
Also comes with a full colour 8-page booklet.
Note: The track list is translated from Japanese. Also, I don't have time to match with the localised names right now.
Disk 1
Disk 2
Disk 3
Disk 4
Main Visual Set
This is a set of 7 illustrations. 6 of them are the main visuals for Books I through VI. Meanwhile, the 7th illustration–currently being designed–is an original piece of artwork for veteran artist Yusuke Kozaki.
Also includes a fancy wooden frame.
The illustrations measure approx. 242 x 322 mm, while the wooden frame is approx. 270 x 350 x 15 mm.
Chibi Heroes Sticker Book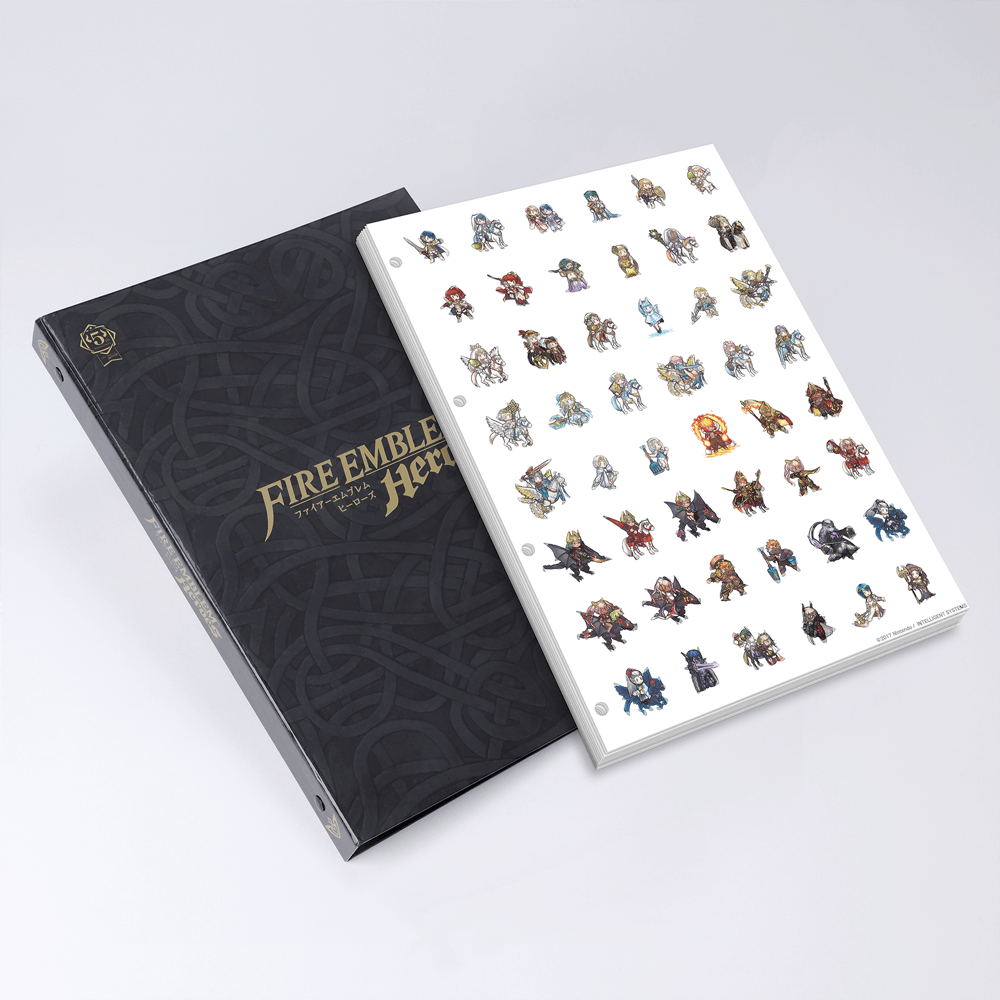 This is an A4-size compendium of roughly 900 Heroes divided into 19 sticker sheets. The sheet shown above has 48 Heroes and 48 x 19 = 912, so it adds up. Includes Heroes up to end of March 2022; Resplendent Heroes are included.
The sticker sheets are approx. 210 x 297 mm (A4), while the binder measures approx. 240 x 315 x 30 mm.
Feh Plush Smartphone Stand
If you ever wanted a fuzzy Feh to hold your smartphone or to punish, Intelligent Systems has got you covered! The wings on the back are detachable and the underside of the wings double as a screen cleaner. Clever.
Feh is made from polyester and nylon and measures roughly 120 x 180 x 120 mm.
Original Box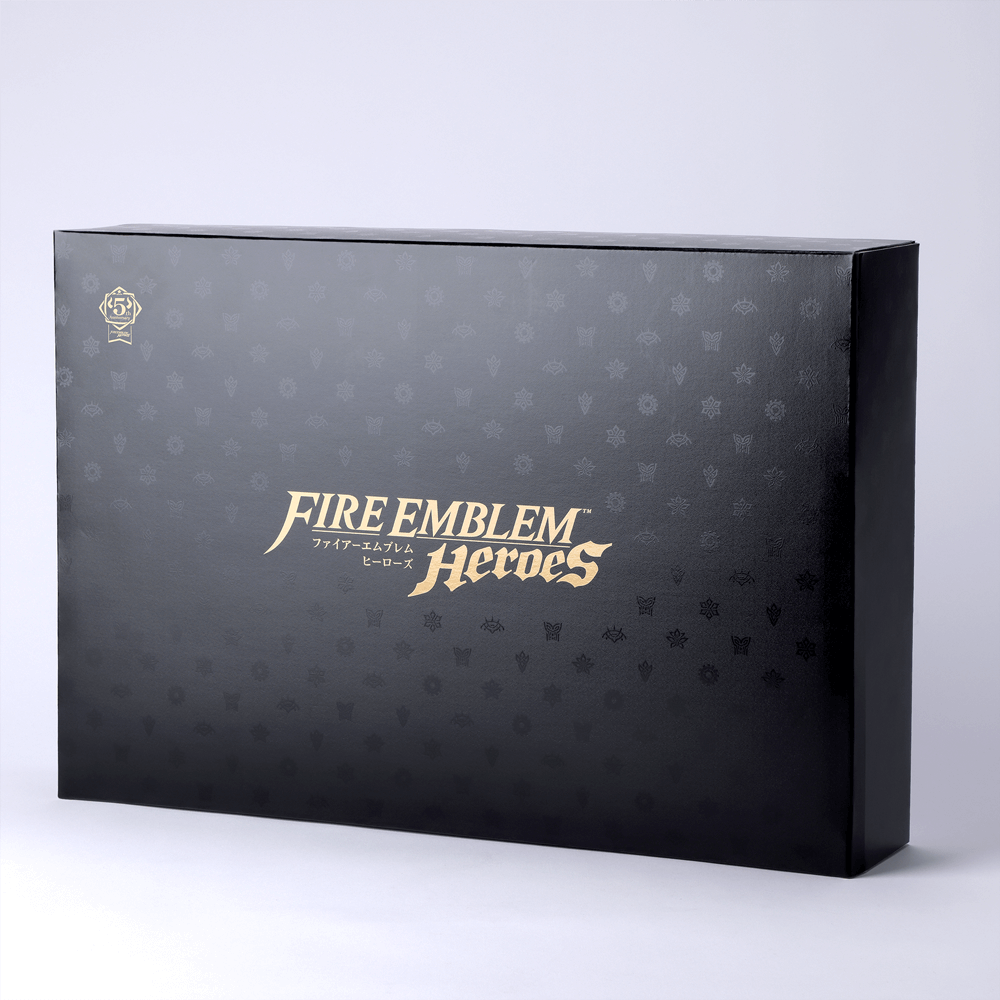 Finally, here's the box itself. It features the emblems of the various realms/countries from the game. Besides containing the rest of the contents, you could use it separately as a storage box too.
The box measures approx. 475 x 324 x 96 mm.