Credits: h_yusaku, FEA 2ch strategy wiki
Players can acquire Renown, which may be exchanged for rewards via the Wireless menu, when outside of battle.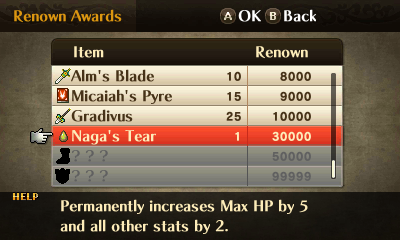 How to Obtain Renown
Complete a chapter: 10 points
Complete a skirmish: 10 points (doesn't matter how many enemy teams)
Defeat (or hire) a SpotPass or StreetPass Team: 50 points
Defeat (or yield before) a Double Duel team: Varies according to the number of foes defeated and the difficulty level
When starting a new game with a completed game file available, you carry over the highest Renown of your completed game files. Note that if you gain Renown in a file that's been completed, the game doesn't count your new Renown for transfers until you complete that file again.
The easiest way to obtain Renown is to repeatedly hire cheap SpotPass Teams. The DLC episode "The Golden Gaffe" is useful for obtaining the funds for such an endeavour.
Rewards
Notes:
Each item can only be exchanged once per game file.
Renown is not consumed after an exchange.
| Item | Renown |
| --- | --- |
| Glass Sword | 50 |
| Second Seal | 100 |
| Orsin's Hatchet | 150 |
| Seed of Trust | 210 |
| Levin Sword | 270 |
| Energy Drop | 330 |
| Beast Killer | 400 |
| Spirit Dust | 470 |
| Celica's Gale | 550 |
| Secret Book | 630 |
| Longbow | 720 |
| Ephraim's Lance | 810 |
| Goddess Icon | 900 |
| Bullion (L) | 1000 |
| Speedwing | 1200 |
| Leif's Blade | 1500 |
| Bolt Axe | 1800 |
| Seraph Robe | 2200 |
| Innes' Bow | 2600 |
| Mercurius | 3000 |
| Dracoshield | 3500 |
| Noble Rapier | 4000 |
| Tiki's Tears | 4500 |
| Parthia | 5000 |
| Sigurd's Lance | 5750 |
| Talisman | 6500 |
| Hector's Axe | 7250 |
| Alm's Blade | 8000 |
| Micaiah's Pyre | 9000 |
| Gradivus | 10000 |
| Naga's Tear | 30000 |
| Boots | 50000 |
| Supreme Emblem | 99999 |