After cooking a dish, depending on the character and your luck, the dish may have a title (prefix) that adds onto or modifies the dish's stat boosts.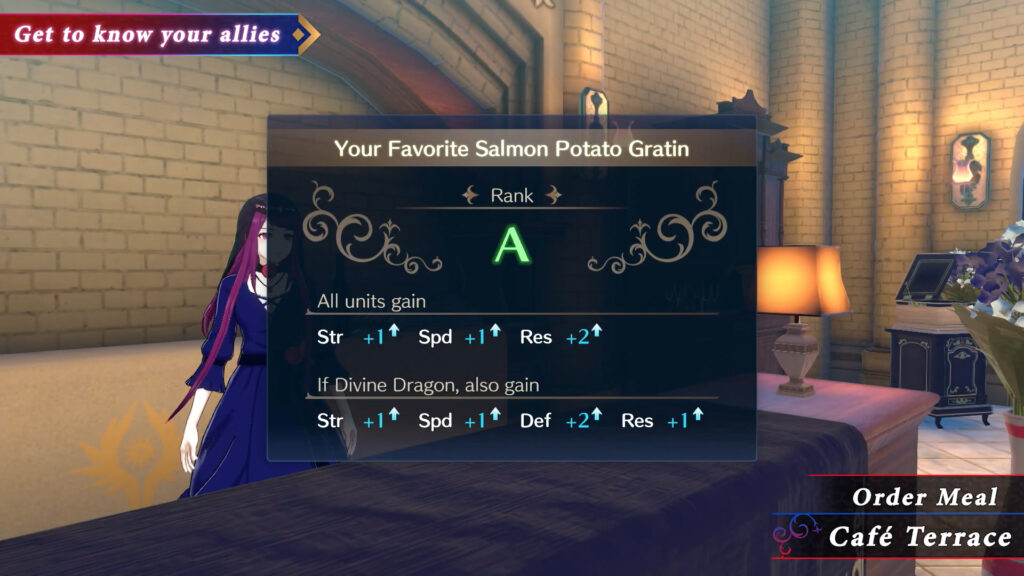 For example, Salmon Potato Gratin normally gives Str +1, Spd +1 and Res +2.
If Ivy cooks it, you may get the "Your Favorite" title, which adds +1 to the existing stat boosts (in this case, Str +1, Spd +1, Res +1) and +2 to a stat that wasn't boosted (in this case, Def +2).
Also, some of these titles only grant their bonus stat boosts for specific characters (using the same example, only Alear gets the bonus stat boosts). Other characters will receive the dish's default stat boosts.
Note: In addition to what's listed, any character can randomly cook E or lower rank dishes.
Sorted by Title
Title
Rank
Additional Stat Boost
Target
Character/Notes
First-Rate
SS
+1 to Dish's stat boosts, +2 to one stat not boosted by Dish
Any
Bunet, Anna
Delicious
S
+1 to Dish's stat boosts, +1 to one stat not boosted by Dish
Any
Alcryst, Zelkov, Bunet
Lip-Smacking
S
+1 to Dish's stat boosts, +1 to one stat not boosted by Dish
Any
Boucheron, Saphir
Mouthwatering
S
+1 to Dish's stat boosts, +1 to one stat not boosted by Dish
Any
Clanne, Céline, Goldmary
Conqueror's
A
+1 to Dish's stat boosts, +1 to one stat not boosted by Dish
Brodian
Diamant
Saintly
A
+1 to Dish's stat boosts, +1 to one stat not boosted by Dish
Firenese
Alfred
Courageous
A
+1 to Dish's stat boosts, +1 to one stat not boosted by Dish
Solmic
Timerra
Sagacious
A
+1 to Dish's stat boosts, +1 to one stat not boosted by Dish
Elusian
Ivy
Divine
A
+1 to Dish's stat boosts, +1 to one stat not boosted by Dish
Lythian
Framme
Robust
A
+1 to Dish's stat boosts, +1 to one stat not boosted by Dish
Male
Clanne, Amber
Decadent
A
+1 to Dish's stat boosts, +1 to one stat not boosted by Dish
Male
Goldmary
Audacious
A
+1 to Dish's stat boosts, +1 to one stat not boosted by Dish
Female
Lapis, Timerra
Dainty
A
+1 to Dish's stat boosts, +1 to one stat not boosted by Dish
Female
Louis, Rosado
Tasteful
A
+1 to Dish's stat boosts, +1 to one stat not boosted by Dish
Adult
Vander, Merrin
Trendy
A
+1 to Dish's stat boosts, +1 to one stat not boosted by Dish
Child
Zelkov, Jean
Your Favorite
A
+1 to Dish's stat boosts, +2 to one stat not boosted by Dish
Alear
Clanne, Framme, Ivy,

Veyle

Sophisticated
B
+2 to one stat not boosted by Dish
Any
Céline, Fogado, Bunet, Lindon
Whimsical
B
+1 to one stat not boosted by Dish
Any
Zelkov, Rosado, Saphir
Extremely Rich
B
+2 to one stat not boosted by Dish
Male
Louis, Amber, Merrin, Seadall
Light, Refreshing
B
+1 to one stat not boosted by Dish
Male
Alfred, Jade, Kagetsu
Well-Balanced
B
+2 to one stat not boosted by Dish
Female
Jade, Hortensia
Mild
B
+1 to one stat not boosted by Dish
Female
Etie, Goldmary, Seadall
Brodia-Style
B
+1 to one stat not boosted by Dish
Brodian
Diamant, Amber, Alcryst, Lapis, Citrinne
Firene-Style
B
+1 to one stat not boosted by Dish
Firenese
Boucheron, Céline, Louis, Jean,

Mauvier

Solm-Style
B
+1 to one stat not boosted by Dish
Solmic
Timerra, Merrin, Fogado, Pandreo, Seadall
Elusia-Style
B
+1 to one stat not boosted by Dish
Elusian
Kagetsu, Hortensia, Rosado, Anna, Lindon
Lythos-Style
B
+1 to one stat not boosted by Dish
Lythian
Vander, Framme
Rustic
C
Str +2
Any
30% chance to replace Hearty
Hearty
C
Str +1
Any
Panette, Yunaka, Saphir
Carefully Crafted
C
Mag +2
Any
30% chance to replace Fresh
Fresh
C
Mag +1
Any
Citrinne, Anna, Jean, Lindon
Extremely Spicy
C
Dex +2
Any
30% chance to replace Spicy
Spicy
C
Dex +1
Any
Etie, Panette, Yunaka,

Veyle

,

Mauvier

Bitter
C
Spd +2
Any
Chloé, Jade, Alcryst, Panette
Bittersweet
C
Spd +1
Any
Chloé, Jade, Alcryst, Panette
Extremely Sweet
C
Lck +2
Any
30% chance to replace Sweet
Sweet
C
Lck +1
Any
Etie, Citrinne
Crunchy
C
Def +2
Any
30% chance to replace Rather Tough
Rather Tough
C
Def +1
Any
Boucheron, Chloé, Kagetsu
Delightful
C
Res +2
Any
30% chance to replace Kind of Odd
Kind of Odd
C
Res +1
Any
Chloé, Lapis, Fogado
Ordinary
D
Any
Default
Not-Quite-Right
E
-1 to Dish's stat boosts, +2 to one stat not boosted by Dish
Any
Ivy, Pandreo
Lackluster
E
-1 to Dish's stat boosts, +1 to one stat not boosted by Dish
Any
Vander, Diamant, Hortensia
Unutterably Alien
E
-2 to Dish's stat boosts, +1 to one stat not boosted by Dish
Any
Pandreo,

Mauvier

Stomach-Churning
F
Dish's stat boosts set to 0, Str +2, Mag +2, Dex -1, Spd -1, Def -1, Res -1, Lck -1
Any
Alfred,

Veyle

Completely Burnt
G
Dish's stat boosts set to 0
Any
Yunaka
Sorted by Character
| Character | | Titles | |
| --- | --- | --- | --- |
| Vander | Lackluster (E) | Tasteful (A) | Lythos-Style (B) |
| Clanne | Mouthwatering (S) | Robust (A) | Your Favorite (A) |
| Framme | Divine (A) | Your Favorite (A) | Lythos-Style (B) |
| Alfred | Saintly (A) | Light, Refreshing (B) | Stomach-Churning (F) |
| Boucheron | Lip-Smacking (S) | Rather Tough (C) | Firene-Style (B) |
| Etie | Mild (B) | Spicy (C) | Sweet (C) |
| Céline | Sophisticated (B) | Firene-Style (B) | Mouthwatering (S) |
| Louis | Dainty (A) | Extremely Rich (B) | Firene-Style (B) |
| Chloé | Rather Tough (C) | Bittersweet (C) | Kind of Odd (C) |
| Diamant | Conqueror's (A) | Lackluster (E) | Brodia-Style (B) |
| Amber | Extremely Rich (B) | Robust (A) | Brodia-Style (B) |
| Jade | Light, Refreshing (B) | Well-Balanced (B) | Bittersweet (C) |
| Alcryst | Brodia-Style (B) | Bittersweet (C) | Delicious (S) |
| Lapis | Audacious (A) | Kind of Odd (C) | Brodia-Style (B) |
| Citrinne | Sweet (C) | Fresh (C) | Brodia-Style (B) |
| Ivy | Your Favorite (A) | Sagacious (A) | Not-Quite-Right (E) |
| Zelkov | Delicious (S) | Trendy (A) | Whimsical (B) |
| Kagetsu | Rather Tough (C) | Light, Refreshing (B) | Elusia-Style (B) |
| Hortensia | Well-Balanced (B) | Lackluster (E) | Elusia-Style (B) |
| Rosado | Dainty (A) | Whimsical (B) | Elusia-Style (B) |
| Goldmary | Decadent (A) | Mouthwatering (S) | Mild (B) |
| Timerra | Courageous (A) | Audacious (A) | Solm-Style (B) |
| Merrin | Extremely Rich (B) | Tasteful (A) | Solm-Style (B) |
| Panette | Bittersweet (C) | Spicy (C) | Hearty (C) |
| Fogado | Sophisticated (B) | Kind of Odd (C) | Solm-Style (B) |
| Pandreo | Unutterably Alien (E) | Solm-Style (B) | Not-Quite-Right (E) |
| Bunet | First-Rate (SS) | Delicious (S) | Sophisticated (B) |
| Anna | First-Rate (SS) | Fresh (C) | Elusia-Style (B) |
| Jean | Trendy (A) | Fresh (C) | Firene-Style (B) |
| Yunaka | Spicy (C) | Completely Burnt (G) | Hearty (C) |
| Seadall | Extremely Rich (B) | Mild (B) | Solm-Style (B) |
| Lindon | Fresh (C) | Sophisticated (B) | Elusia-Style (B) |
| Saphir | Hearty (C) | Whimsical (B) | Lip-Smacking (S) |
| Veyle | Stomach-Churning (F) | Spicy (C) | Your Favorite (A) |
| Mauvier | Unutterably Alien (E) | Spicy (C) | Firene-Style (B) |