Another day brings another news update for FE Heroes: Today is the beginning of the newest Tempest Trials+: Familiar Faces!
Use at least 1 of the 8 Bonus Heroes below to earn an extra 40% score per Tempest run: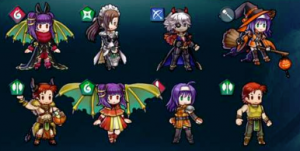 These bonus Heroes also gain an additional +10 HP and +4 to Atk, Spd, Def and Res when fighting within the Tempest.
This TT+ rewards players with the following at these milestones:
1,000 > 4-Star Halloween Dorcas
6,000 > Spd/Def Seal
10,000 > Darting Stance Seal
12,500 > Earth Blessing
15,000 > 5-Star Halloween Dorcas
20,000 > Brazen Atk/Res Seal
On top of these unique rewards, you will be able to collect the following rewards that usually do not change between each Tempest Trial, assuming you reach a total of 50,000 points:
11,000 Feathers
42 Orbs
80 Sacred Coins
57,500 Shards and Crystals of various colours
You can earn additional Feathers by obtaining a high score and ranking highly amongst other players. You can view your current rank and what rewards you will receive by viewing "Check Rewards" and changing "Score type" to "Rank."
This Tempest Trials+ will end on the 24th of October, 6:59AM UTC. Be sure to take everything on offer before the Tempest closes! Pacing yourself at 5,000 points per day will grant you all rewards by the final day.