It's that time again! Feh can't fly south for the winter, as she has quite a bit of work to do, making cheese fondue and deliver to us, the next Feh Channel! Click here to re-watch it (or watch it for the first time, in case you missed it).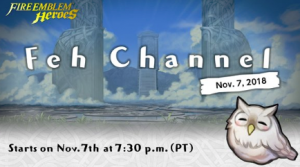 As always, FEH Channel kicks off with Feh giving us some interesting news. This time, it featured a Heroic Grail, which allows you to, when spent, allows you to summon up to twenty new four-star versions of a Grand Hero Battle or Tempest Trial+ reward unit.
They appear to cost 100 + 50*times summoned (up to the first 9 summons). From the 10th onward, it's a flat 500 Heroic Grails per.
For convenience, we receive 200 Heroic Grails for free. Now you can +10 those Grand Hero Battle units!