Unless you're a die-hard Cipher follower or merchandise collector, you might have missed the birth of the real-life "Cavalier Duo" during 2016.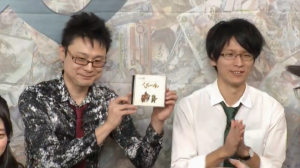 Perhaps better known for their roles as Sound Director and Music Composer in Fates, Hiroki Morishita (left) and Takeru Kanazaki (right) performed in a series of Fire Emblem mini-concerts during the Cipher Caravan events from June to August 2016.
Around this time, the pair became known as the "Cavalier Duo" ("Social Knights" in Japan, based on the Japanese name of the Cavalier class), with Morishita being the red Cavalier and Kanazaki being the green Cavalier.
Later, during the end of 2016, the pair released a soundtrack CD containing music they performed at the Cipher Caravan event, dubbed "Sounds of Fire Emblem from Cipher Caravan – Horse and Rider as One".