In today's Nintendo Direct, we started with a bombshell: Fire Emblem is getting a second Musou (Warriors) game. Seeing as Koei Tecmo did assist with making Three Houses, it'll be quite the graceful spin from Fire Emblem fare to Warriors fare.
With Age of Calamity's massive success for Zelda, not to mention modest success for the original Fire Emblem Warriors, KT and Nintendo saw fit to give us a Three Houses Warriors in a similar vein.
Fire Emblem Warriors: Three Hopes releases on 24th June 2022 globally. It can be pre-ordered from the eShop right now.
The game weighs at 15.6 GB. Various text languages are included* and there will be English and Japanese dual audio. There is 2 player multi-player (requires 1 Joy-Con each). The Switch Pro Controller is supported.
* German, English, Spanish, French, Italian, Japanese, Korean and Chinese (Simplified and Traditional). Some languages aren't available in the physical release (maybe they need to be downloaded?).
Digital editions of the game come with an "Owl Perch" bonus. An owl will appear in your personal quarters; talking to it will give you an Owl Feather, used for gaining support points with allies. This is not included with the physical edition, but may be offered for purchase later on (as DLC).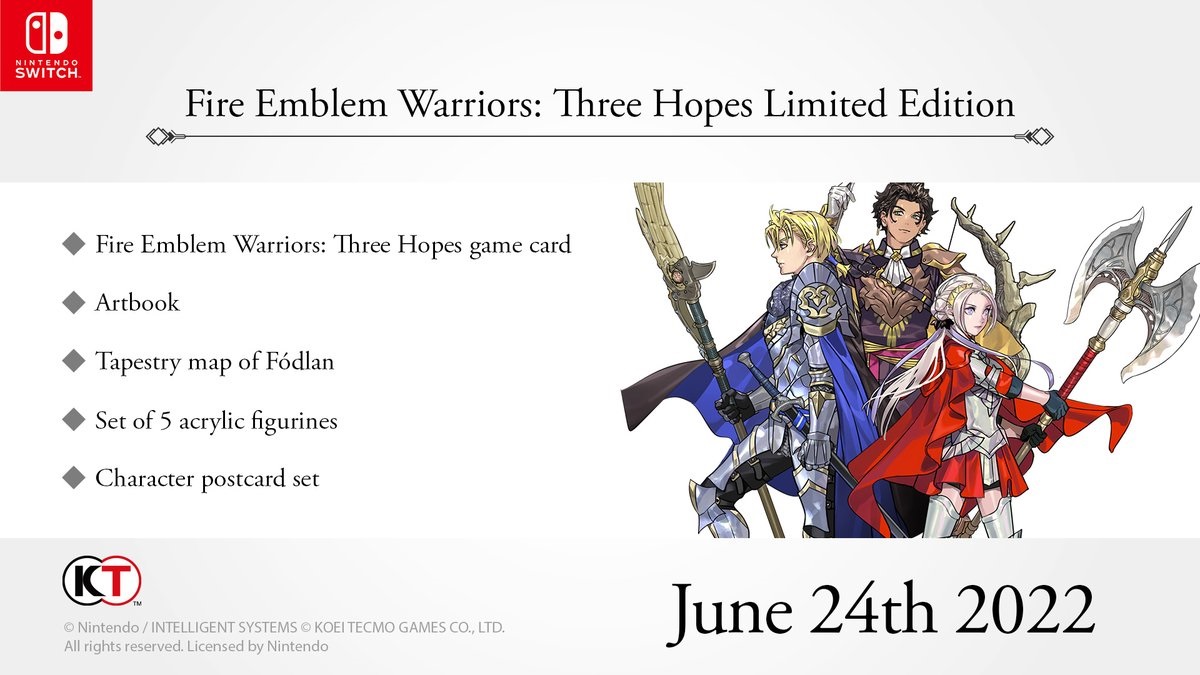 Japan and Europe, at least, will be receiving limited edition bundles. Both include the game itself, an artbook, tapestry map, set of 5 acrylic figures and a character postcard set.
More details on the Japanese side of things can be found on the game's official website.
Please continue for our analysis of the trailer.