August has just started–and so too has a new Grand Conquests event in Fire Emblem Heroes! Between 1st August and 6th August, Summoners can wage war on the continent of Valentia from Shadows of Valentia.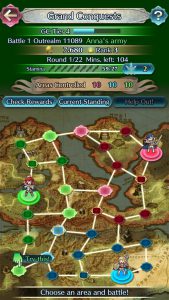 Previously, the battles took place on the southern half of the continent, but now they've moved to the northern half, which is largely occupied by the Rigelian Empire. There's a tiny bit of story too, as Anna claims these battles are all for training. So not world dominion.
As announced in the previous Feh Channel, there are a number of changes to the event:
Rewards will be available for each of the three periods of Grand Conquest. They will be determined by your "Rank in Army" score.
The fewer areas controlled by your army at the end of each round, the higher the initial defense score at the beginning of the next round.
There are new Level 10 and 20 Normal difficulty maps. Plus Infernal difficulty maps after reaching GC Tier 8, featuring the return of enemies that can instantly act after teleporting.
Last but not least, because it's a new month, there are three pages of new monthly quests. You could probably clear a whole bunch of them by battling in Grand Conquests!