We finally, after nearly 5 months of waiting have some proper information on the upcoming Fire Emblem Warriors.
First off we'll go over some translated tidbits, all of which come from this week's issue of Famitsu.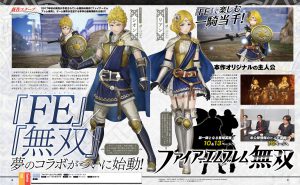 Two original protagonists: Shion and Lian. They are twins from the Kingdom of Aitriss and the children of Queen Yuana.
Shion (VA: Yūma Uchida – Who voices Rock Howard in The King of Fighters XIV in terms of recent game roles.)
The royal prince of the Kingdom of Aitriss. Aspires to be a knight who fights on the front-lines rather than a king and thus encourages his twin sister Lian to inherit the throne.
Lian (VA: Māya Uchida – Who voices Sharena in the Japanese version of Fire Emblem Heroes.)
Shion's older twin sister. Clever and is understanding of her own faults, so she has no desire to inherit the throne. Rather, she encourages Shion to become king.