Summoners! The second episode of the FEH Channel live stream gave us 17 minutes of excitement, starring our beloved owl is officially named Messenger Owl Feh (pronounced like Faye).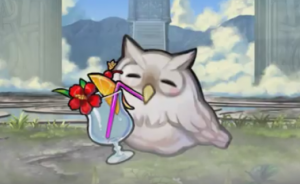 What a cutie!
Catch the recap of the live stream here (Japanese viewers, click here).
Now that we've finally learned the official name of Feh, what about the units? Well, to start, the next Nohrian Summer banner gives us some new ones, of course!
Nohrian Summer will bring Leo, Xander, Elise and female Corrin. Xander dons a hilarious Lilith floatie, a "Tomato Tome" for Leo, an unmounted Elise with her green Tome and F!Corrin will be a Wyvern-riding blue tome user, marking her as the second flying tome wielder in the game.
These units will be available in just a few hours, officially on July 28th at 12a PST. More details on this will be revealed in just a few hours, when the units become available, but here's a sneak peek at the units and their skills: