Another Tempest has arrived in Fire Emblem Heroes! Ready your units and prepare to tackle Tempest Trials+: Thunder's Fist in the Events menu.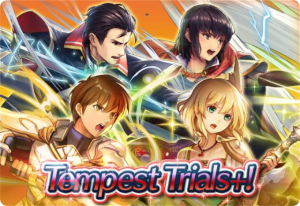 "Marth" and Leif, lords of two different but connected worlds, discuss the coming storm. "Marth" is certain of Leif's success based on Jugrdali historical records, but Leif isn't so confident…
As the first Tempest Trials+, this event's structure is a bit different from previous versions. All bonus allies now provide a 40% bonus to your score. The game will also automatically suggest a difficulty level for you based on the strength of your units, and stamina costs have been lowered for all map options.
The final map features Reinhardt as a boss and is based on Thracia 776's chapter 22, the same chapter you actually fight Reinhardt in game.
As far as other general changes so, the event will last for only 10 days, and uses the rewards structure of the Mini Tempest Trials, capping at 50,000 points. Here's a look at the reward highlights:
Units: 4★ Finn at 1,000 and 5★ Finn at 15,000.
Sacred Seals: Seal Spd 1 at 6,000, Fortress Def 1 at 10,000, and Drive Atk 1 at 20,000.
Earth Blessing at 12,500
Orbs, Hero Feathers, Sacred Coins, Shards, and Crystals galore!
Tempest Trials+: Thunder's Fist will fade away into the mists on Tuesday, 1 May.