Credits: Yahoo Auction users (images), Fire Emblem at Wikipedia (Japanese)
This page lists most of the notable Fire Emblem merchandise–the majority of which originate from Japan.
If you're interested in purchasing merchandise, I recommend doing some external research. Whilst the information on this page should be accurate, I wouldn't want to be held responsible if what you purchased was incorrect or not what you were looking for :).

Below is a list of what I believe are the top 10 most interesting Fire Emblem merchandise (a.k.a. VincentASM's Christmas wishlist). Of course, just because a merchandise didn't make this list doesn't mean they aren't worth buying; the competition is rather fierce after all!
1. Fire Emblem: Shadow Dragon Falchion Replica & Crystal

| | |
| --- | --- |
| Replica Sword | Crystal Display |
To promote the release of Shadow Dragon in North America, Nintendo of America commissioned some really cool promotional items. Although good luck getting your hands on one, as they were produced in extremely limited quantities and all the known ones in existence were available as prizes only.
The Falchion Replica was designed by OlliN Sword Design LLC and is crafted from stainless steel, bronze and lapis; it reportedly measures a whopping 4 foot long and weighs 28 pounds. The sword is meant for display only and isn't intended for practical use (so no stabbing dragons with it). It's unclear how many were produced, but certainly not many (Source). However, we do know that a replica was displayed at a Shadow Dragon promotional booth at Anime Boston 2009 and one lucky person could win it by entering a raffle (Source).
More info: Production notes
Meanwhile, apparently five copies of the smaller, but still rather neat, Falchion Crystal Display were produced; four were made available to members of the public who emerged victorious in a Fire Emblem trivia contest held in America's Nintendo World Store (Source).
(Images credits to OlliN Sword Design, Anime Nut and silvernite8)
2. Fire Emblem: Thracia 776 Deluxe Box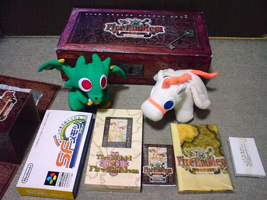 | | |
| --- | --- |
| The Box | Contents |
This extravagant Thracia 776 collector's bundle was produced in limited quantities in 1999, during Thracia 776's release, and currently sells for crazy amounts on auction sites.
The contents come packaged in a cardboard box, which is decorated like a treasure chest, and include: a copy of the game (the Nintendo Power flash cartridge version), a cloth map of the Thracian peninsula, a "The World of Fire Emblem" VHS tape, nine character cards and a pegasus and wyvern plush toy. More photos can be found here and you can also watch the "The World of Fire Emblem" if you search carefully in Youtube.
(Images credits to hepokoknight)
3. Fire Emblem: Awakening Nintendo 3DS Bundle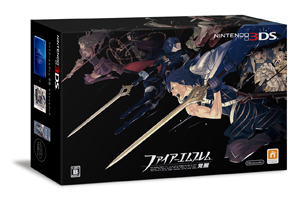 | | |
| --- | --- |
| Packaging | 3DS Console |
Around March 2012, Nintendo of Japan released a special Fire Emblem Awakening themed Nintendo 3DS console bundle, selling it exclusively from their online store.
The bundle included a themed blue Nintendo 3DS console, a copy of the game and an exclusive Nintendo points card. Reports seem to indicate the bundle sold out almost instantly, with Nintendo's online store failing to handle the huge demand, inadvertently going offline (Source).
International buyers should be cautious because Nintendo 3DS consoles are region-locked (so don't expect to play anything but Japanese games on it).
More info: Contents
4. Fire Emblem: Binding Blade Promotional Trial Maps
| | |
| --- | --- |
| Grizel Map | V and J-type Maps |
Japanese video game and manga magazine VJump ran a competition, promoting the recent Fire Emblem manga "Hasha no Tsurugi", where winners could send in their Binding Blade cartridge for unique Trial Maps to be downloaded.
50 winners could obtain the "Grizel Execution Court" map, which was based on a location in the manga. 10 luckier winners could obtain the "V-type" and "J-type" maps, shaped after the letters V and J.
Similarly, the Japanese official site awarded the "Defeat Bandits" map to players who obtained the highest ranks in their ranking contest.
Exclusive digital content is also available for the other GBA releases, but the Binding Blade digital content is unique in that it doesn't exist in the original cartridge. Needless to say, if you happen upon such a cartridge, please do us a favour by dumping the ROM!
5. Fire Emblem: Genealogy of the Holy War Figurines
| | |
| --- | --- |
| Regular Figurines | Ira Figurine |
These were produced by the "Pleasant Angels" company and released in November 2006, ten years after the game's release (Source).
A total of 7 figurines, around 12 cm high, were produced, based off popular 1st generation characters from fan-favourite Genealogy of the Holy War: Sigurd, Eltshan, Levin, Fury, Sylvia, Tiltyu and Ira. The figurines were sold in blind boxes and Ira was designated as a secret figurine and apparently difficult to obtain.
Curiously, the 7 figurines were released as "Series 1", but a second series of figurines sadly never came to light.
More info: Product page
6. Fire Emblem: Mystery of the Emblem Anime
I bet some of you have asked this question at one point or another: "I bet Fire Emblem would make a great anime!"
Well, back in 1996, an anime adaptation of Mystery of the Emblem was produced, which closely followed the events of the first book. For some reason, only two episodes of the anime were produced, before it suddenly stopped. Bizarrely, the anime was translated and released in English (with dubbed and subbed versions), way before the first Fire Emblem game was released in English.
7. Fire Emblem Trading Card Game
| | | | |
| --- | --- | --- | --- |
| Series 3 Poster | Series 4 Poster | Marth | Linde |
As the name suggests, this is a Fire Emblem themed trading card game.
First released in August 2001, the TCG eventually spawned seven series, featuring characters from the Jugdral and Archanea set of games. However it was later discontinued in 2006. I don't believe there are many people in the English community who know how to play the game, but the TCG is rather well known for its nice character artwork, which Intelligent Systems often uses to represent the older games' characters with.
More info: Gallery page
8. Fire Emblem Awakening Material Collections: Knights of Iris
| | | | |
| --- | --- | --- | --- |
| Front Cover | Olivia and Libera | My Unit and Lucina | Storyboard |
Published by Dengeki, "Knights of Iris" is a fan book that includes a ton of visual content from the smash hit Fire Emblem Awakening.
The 320 page book features a complete official artwork collection, promotional artwork and various concept designs, as well as a full support conversation compilation.
More info: Contents, Samples, Front cover, Details
9. Fire Emblem 20th Anniversary Encyclopaedia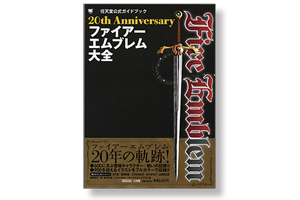 Released in June 2010, to celebrate the series 20th anniversary in Japan (Source), the 20th Anniversary Encyclopaedia broadly covers the entire series (up to the then-yet-to-be-released Heroes of Light and Shadow) in its 240 pages.
The book features an extensive collection of artworks (over 900: 600 of which are characters), although they've been crammed into a relatively small space. There are also special guest artworks by former series illustrators and other professional illustrators, such as Senri Kita and Eiji Kaneda.
10. Fire Emblem: Awakening Music Selections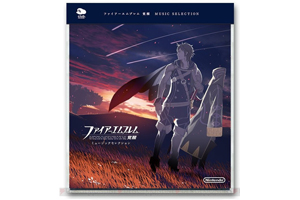 From April 2012, Nintendo of Japan started offering this Fire Emblem Awakening "music selection" CD as a Club Nintendo reward for 400 points (or 250 points if Awakening was registered by October). The soundtrack features 20 songs from the game and runs for a duration of 64 minutes.
Honourable mentions: Fire Emblem: Treasure, Fire Emblem: Binding Blade and Blazing Sword Characters, Fire Emblem: Thracia 776 Illustrated Works, and Fire Emblem Memorial Book: Archanean Chronicle.