Here's something a little different. Last month, Fire Emblem Cipher Festival 2018 took place in Japan. Among the various activities, there was a quiz area for fans to test their Fire Emblem knowledge.
For those unable to attend, we've recreated the quiz for your amusement! The answers to each question can be placed in the crossword above. Please refer to the icon(s) in the top-left corner for where the answers should go.
After filling in the crossword (or most of it anyway), the boxes in grey should spell out a 6-letter word.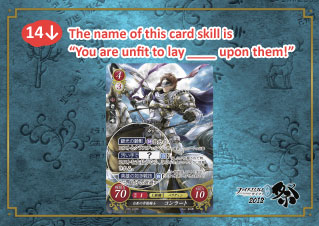 By the way, 7 Across may be difficult for those who don't really keep up with Cipher events. If you need a clue, please check this page.
For 11 Down, if the card images are too small, the characters are Midia (top row), Camus and Jeorge (bottom row).
Update: The clue image for 4 Across has been revised to better reflect the Japanese version.
Finally, some of you may notice the crossword is actually different to the one from the event. Obviously, this is because Japanese and English don't match up 100%. If you know Japanese, here's the original crossword and clue images.
Update 2: Here are the answers for the English version and Japanese version (although note that the Japanese secret word may not be 100% accurate). Special thanks to Chrom/@theprinceofiris for helping me test the English crossword!