Another clash of heroes is underway in Fire Emblem Heroes! All eight New Year's themed heroes are dueling head-to-head in Voting Gauntlet: New Year's Showdown.
Choose your favourite New Year's hero to support between Laevateinn, Gunnthrá, Hríd, Fjorm, Takumi, Camilla, Azura, and Corrin. You can currently summon the first seven of these heroes in either New Year banner. If you missed Corrin from last year's Tempest Trials, you can buy a copy of him with Heroic Grails.
Each battle in the first round pits one of last year's Fates heroes against one of this year's Heroes OCs. Check out the bracket below: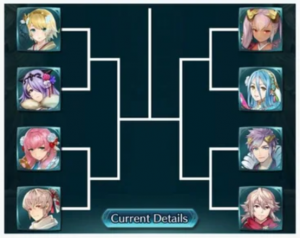 In addition to battling every 30 minutes to support your team, you can also complete Voting Gauntlet quests to earn more flags. Furthermore, there earn other rewards, including 4 Orbs, for battling in the VG itself. Do your best to support your team!
As usual, each round will last almost two full days, ending three hours before reset on the last day. Our current first round will end at 3:59am UTC on 4 January. Voting Gauntlet: New Year's Showdown will come to a final close on 9 January at the same time.