A heads up for strategy RPG fans (that should be you, right?). The English version of Vestaria Saga I: War of the Scions is now available to purchase on Steam. This is the game that Mr. Kaga–"father" of Fire Emblem–and his team created in their spare time.
By this point, we probably don't need to tell you more about the game. But if you're unsure, feel free to browse through our news archives.
In addition, the publishers have released Vestaria Saga I Soundtrack PIANO ARRANGEMENT & 8-BIT MUSIC VERSION, which is a selection of 11 8-bit arrangements from the CD plus 5 brand new piano arrangements and their original versions. For a total of 21 tracks.
This can be purchased as a bundle with the game or separately as DLC. However, you must own the game to purchase it. Also, the piano arrangements (and original versions) are not available yet and will be added once they're completed.
On their Twitter account, Mr. Saitoh, who composed for the game (as well as Kaga's previous game, Berwick Saga), mentions that he's up for composing more tracks if there's enough demand.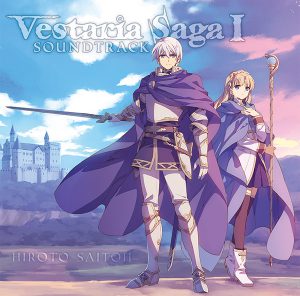 Furthermore, for the first time, the Vestaria Saga I Original Soundtrack has been released outside of Japan! The soundtrack contains 70 tracks from the game. Also, this version will come with a 4-page English booklet.
You can order the soundtrack internationally via this page. It retails for 3,400 Yen.
Thanks to @theprinceofiris for the heads up!