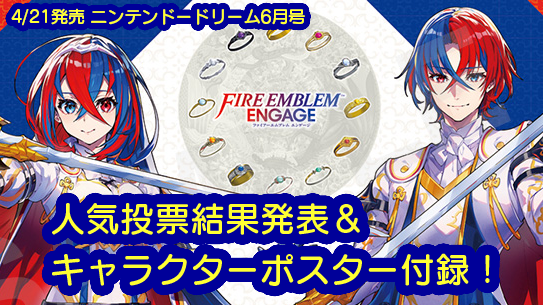 Nintendo Dream reveals who's number one in all of Elyos
Back in February, Japanese magazine Nintendo Dream announced a character popularity poll for Fire Emblem Engage. After a two month wait, the final rankings have been published, and we've got the scoop on where everyone lands. Where did your favorites end up?
We'd like to give special thanks to Twitter user @mmmm7230, who graciously provided us with the top 25 characters and their placements.
Commemorative 1-month anniversary art from Engage character designer Mika Pikazo, featuring many of the poll's participants
Out of 39 candidates, these are the top 25 favorite characters as voted by Nintendo Dream readers:
Alear
Diamant
Alfred
Alcryst
Yunaka
Sommie
Céline
Pandreo
Veyle
Ivy
Framme
Etie
Lapis
Anna
Louis
Goldmary
Hortensia
Boucheron
Chloé
Amber
Kagetsu
Clanne
Panette
Fogado
Vander
The following characters also participated in the poll, but did not receive enough votes to place in the top 25 (in order of what Nintendo Dream originally provided in their April 2023 issue):
Jean
Jade
Citrinne
Zelkov
Rosado
Timerra
Merrin
Bunet
Seadall
Zephia
Griss
Marni
Mauvier
Lumera
Nintendo Dream's June 2023 issue, with The Legend of Zelda: Tears of the Kingdom on the front cover
The print magazine, out today, also contains a two-sided "Best Eleven" poster with many of the poll's top characters, and included is part 2 of their developer interview with the Engage team. Part 1, originally published in last month's issue, can be found transcribed in Japanese here.
Though there is ultimately no consequence of this poll's results, we're sure this information may be of interest to any curious to know how the cast of Engage has been received by players.