Last week, we posted about some Three Houses merchandise releasing in Japan during August 2019. Today, Intelligent Systems revealed some additional bits and bobs that will be available during the latter half of the same month.
Tapestry – 2,800 Yen each (excluding tax)
If your walls are looking a bit barren and you're not afraid to splash out a little, you could consider hanging a tapestry (aka wall scroll) or two. Such as these two, based on the main visual and the main characters. Both are A2 sized.
Hmm, is it me or does having an upside Claude hanging in your living room feel more surreal than usual?
Masking Tape – 800 Yen each (excluding tax)
Do you ever feel crafty or like hoarding weird stationary that you'll never use? If the answer is "yes", some masking tape (also known as "washi tape") might be good for you. There are three designs available, based on the three houses. Each measures 10 m when fully rolled out.
Mug Cups – 1,650 Yen each (excluding tax)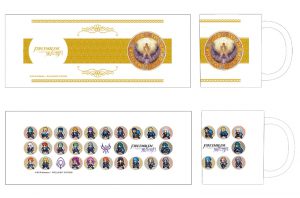 Now this is something that's actually practical! If you had one of these, there'd be no excuse to forget to drink during a long Fire Emblem session! There are two versions, based on the Goddess's mural and pixel versions of the core characters (feel free to play "guess who"). The mugs measure 80 x 92 mm and can store 310 ml.
300-piece Jigsaw Puzzle – 1,600 Yen (excluding tax)
This one isn't from Intelligent Systems themselves, but is instead from Ensky, who tend to produce a lot of licensed goods. As you can see, the design is once again based on the main visual. When completed, the jigsaw measures 26 x 38 cm. It will release sometime during August 2019.
(Thanks to TheTanooki for the heads up!)