New heroes from The Sacred Stones have just arrived in Fire Emblem Heroes! Summon from the Desert Mercenaries banner for your chance at Ewan, Tethys, Gerik, and the new Ephraim & Lyon Duo Unit! Ross has also entered the game as a new 3/4★ unit! Check out our earlier article for their preview trailer and a text breakdown.
You can also see these new heroes in action in the latest story chapter, Marvelous Dream. Complete all five sections and their associated quests to earn up to 20 Orbs!
Furthermore, these new heroes appear in the latest edition of Forging Bonds! The introduction of the story also serves to explain how Ephraim and Lyon ended up getting associated with the rest of Gerik's Mercenaries. Play every day to earn Orbs and other prizes and continue the story!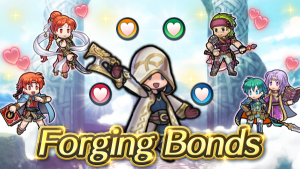 The Desert Mercenaries banner will last most of the rest of the month, ending on 28 November. Forging Bonds will end a week earlier on the 21st.
Lastly, Ephraim: Dynastic Duo is something of a special case this banner. Unlike the other heroes, he will not continue to be available in the regular summoning pool after this summoning event. We don't know when he'll be available next, so if you want to snag him, now's your best chance!