Steadily throughout the year, I'll be digging through the Making of Fire Emblem book for juicy morsels alongside Kirokan from Kantopia.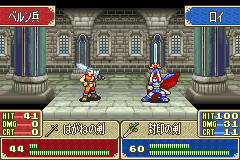 After our in-depth look at the Making of Shadow Dragon, we'll skip ahead to the game inspired by it: Binding Blade for the GameBoy Advance.
Looking back, Binding Blade marked a massive turning point in the series, as Intelligent Systems were faced with the challenge of continuing the Fire Emblem series without its creator, Shouzou Kaga.
At the time, Binding Blade was first envisioned as a Nintendo 64 title known as "Maiden of Darkness". However, for largely unknown reasons, development was halted and resources shifted to a GameBoy Advance entry instead.
With such a turbulent development history behind it, just how much has Binding Blade changed since its early days?