Welcome to the fourth weekly recap for Series 18 of the Fire Emblem Cipher card game, "Oratorio of Embarkation". As a reminder, this year's 2nd expansion will include characters from Three Houses, The Sacred Stones and Awakening.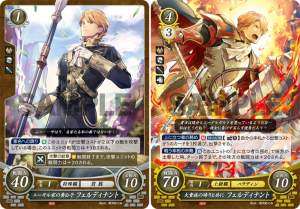 On Monday, the official Twitter account revealed a pair of cards for Ferdinand von Aegir, who's always trying to make a name for himself within the Black Eagle house. His first card shows him as a Noble, while his second card is when he's a seasoned Paladin.
On the next day, we were treated to a dazzling pair of cards of L'Arachel, the evil-smiting princess of Rausten. Her first card is her as a Troubadour, while her second card is a SR+, depicting her as a Valkyrie with the sacred tome Ivaldi.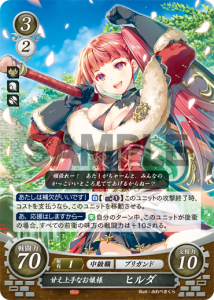 Halfway through the week, we got a singular card of Hilda, from the Golden Deer house. Was she too lazy to submit a second card of herself? Anyway, this is her as a Brigand.